Instead of the usual dough made with flour, this pizza crust is made with grated cauliflower. It's enough to serve two and because it's so low in carbohydrates it only has 300-350 calories per serving.  Try it – it's really delicious!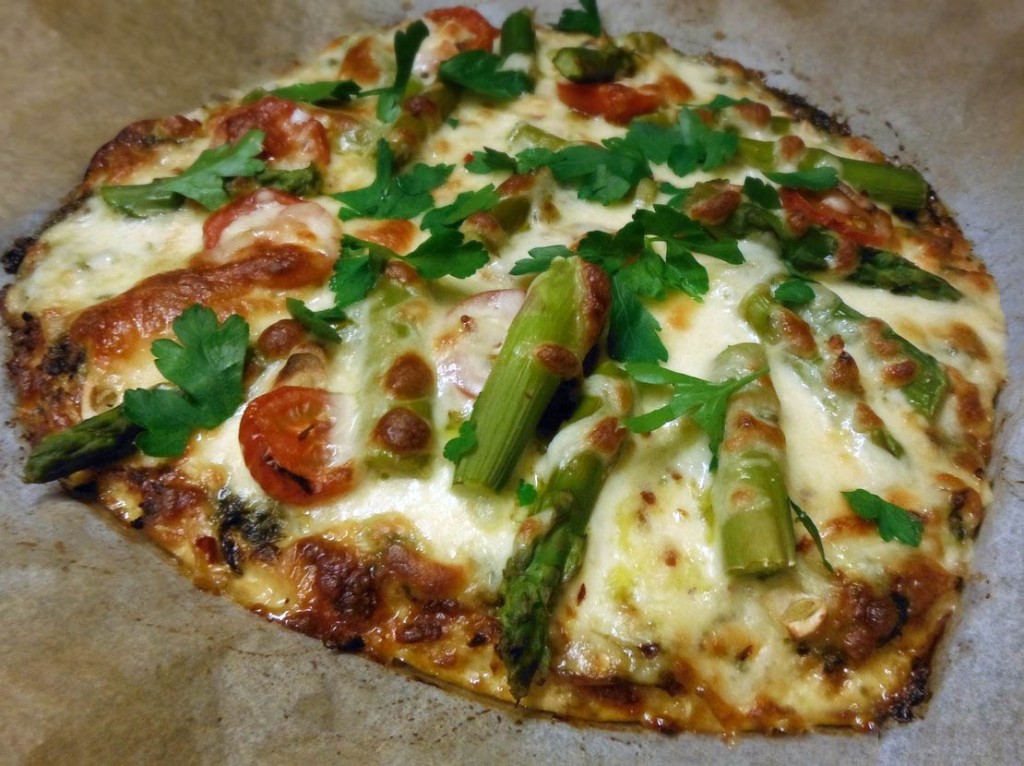 Crust
½ head cauliflower
1 cup grated Mozzarella cheese
2 Tbs grated Parmesan cheese
1 egg
Salt and freshly ground black pepper
Topping
¼ cup tomato sauce or pesto
8-10 cherry tomatoes, halves
4 spears asparagus cut into 3 and steamed
Some buffalo Mozzarella balls sliced (optional)
1-2 cloves garlic, thinly sliced
¼-½ cup grated Mozzarella cheese
Dried chilli flakes (optional)
To garnish
Fresh basil or parsley
Coarsely grate cauliflower. I used a coarse 5mm grating disc on my Magimix. Place in a bowl, cover and microwave on High for 7-8 mins or until soft. Cool then mix in remaining ingredients. Pre-heat oven to 220°C. Line a baking tray with baking paper. Tip cauliflower mixture onto the paper and pat it into a round pizza crust. Bake for 15 mins or until golden brown.
Spread tomato sauce or pesto over the pizza base. Arrange tomatoes, asparagus, garlic, sliced Mozzarella balls and chilli flakes (if using) on top. Sprinkle with grated cheese then bake for 10 mins or until bubbly. Garnish with fresh herbs and serve with a mixed salad.
Serves 2
Variations: instead of asparagus use some ham, salami, pepperoni or peeled prawns.