I've always been a fan of green vegetables such as cauliflower, brussels sprouts and broccoli, which a lot of people don't like. When I was growing up cauliflower was boiled – usually for far too long – and served with a knob of butter, or margarine, if you were lucky. Sometimes a parsley or a cheese sauce would vastly improve the situation. But when I think back to those over-boiled veggies, I realise it's hardly surprising some people were put off eating them for life.
All those vegetables which were traditionally boiled in water are much nicer when roasted in the oven with olive oil. Asparagus for example takes on a whole new character when cooked in this way. If you've never roasted caulfilower, give it a try. You might even convert some members of the family who don't normally like this vegetable.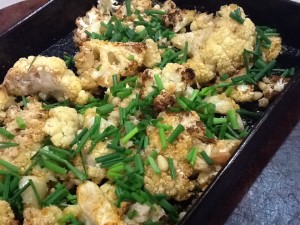 1 small or half a large cauliflower, cut into large flowerets
1 tsp cumin
1 tsp paprika
Salt and freshly ground black pepper, to taste
2-3 Tbs olive oil
3 Tbs pine nuts
1 slice bread, made into crumbs in food processor
2-3 Tbs snipped chives
Pre-heat oven to 180ºC. Place cauliflower in a shallow roasting pan. Sprinkle with cumin, paprika, salt and pepper and drizzle with oil. Mix with fingers to coat thoroughly, then bake for 30-40 mins or until cooked "al dente". About halfway through the cooking time give the cauliflower a stir and sprinkle with the breadcrumbs and pine nuts.
Serve garnished with the chives, either hot or at room temperature. It's even nice cold.
Serves 4-6