This is a delicious way to serve minced beef for a mid-week family dinner. Incorporating lots of healthy vegetables, it looks very colourful arranged on a large platter, so everyone can help themselves. Serve in wraps or tortillas, or accompanied by Indian roti or pita breads.
Add some chopped fresh chillies to the sauce if you want to liven it up a bit, but it's more likely to appeal to small kids without. To keep everyone happy serve the chilli in a small dish, so people can add their own.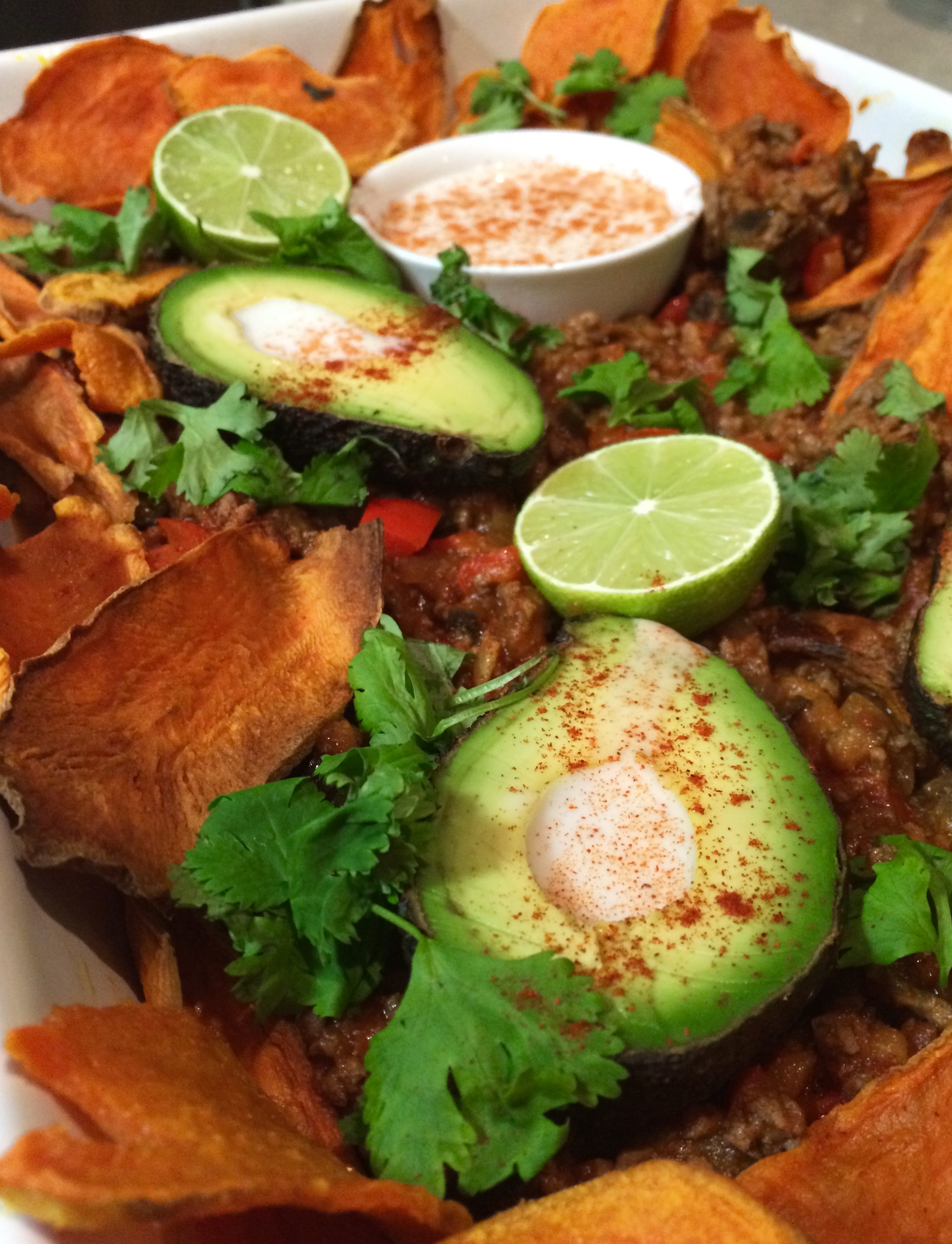 2 large sweet potatoes, peeled and thinly sliced lengthwise using a mandoline
About 4 Tbs olive oil
1 onion finely chopped
2 cloves garlic, crushed
1 red capsicum (pepper), finely chopped
1 eggplant, finely chopped
500g minced beef
2 tsp ground cumin
1 tsp ground chilli
2 tsp dried oregano
2 tsp paprika
400g can chopped tomatoes
1 Tbs Worcestershire sauce
2 tsp sugar
1 beef or vegetable stock cube
2 cups water
Salt and pepper to taste
To garnish:
Baby tomatoes, halved (optional)
Coriander leaves
2 avocados, halved
Sauce:
½ cup coconut cream or sour cream
Juice of 1 lime or ½ lemon
Paprika
Salt to taste
Pre-heat oven to 150°C. Place sweet potato slices in a single layer on 2-3 baking trays lined with baking paper and brush on both sides with oil. Bake for an hour or more, turning them over and swapping the trays round from time to time, so they cook evenly. Remove from the oven when they are crisp.
Heat 1 Tbs oil in a large frying pan over moderate heat. Cook onion, garlic and capsicum until soft then remove from pan. Add another 1 Tbs oil to the pan, increase heat and cook the eggplant until golden, then remove from pan. Add mince and spices and cook stirring until meat is browned. Return the fried vegetables to the pan with the tinned tomatoes, Worcestershire sauce, water and stock cube. Simmer for 15 mins or until thick. Season to taste.
For the sauce mix all ingredients together. Arrange sweet potato chips around the edge of a serving platter and tip the beef in the middle. Nestle the avocado halves and a small dish containing the sauce in the mince. Garnish with the baby tomatoes (there are none in the photo because I had run out), coriander and a shake of paprika.
Serves 4