Try this delicious mid-week stir fry. Easy peasy and adaptable. I forgot to put the chilli on top for the photo. Leave it out for kids or anyone who doesn't like things spicy. I've made this once a week for the past month and each time varied the recipe a bit. It's always good. If preferred, leave out the noodles and serve with steamed rice.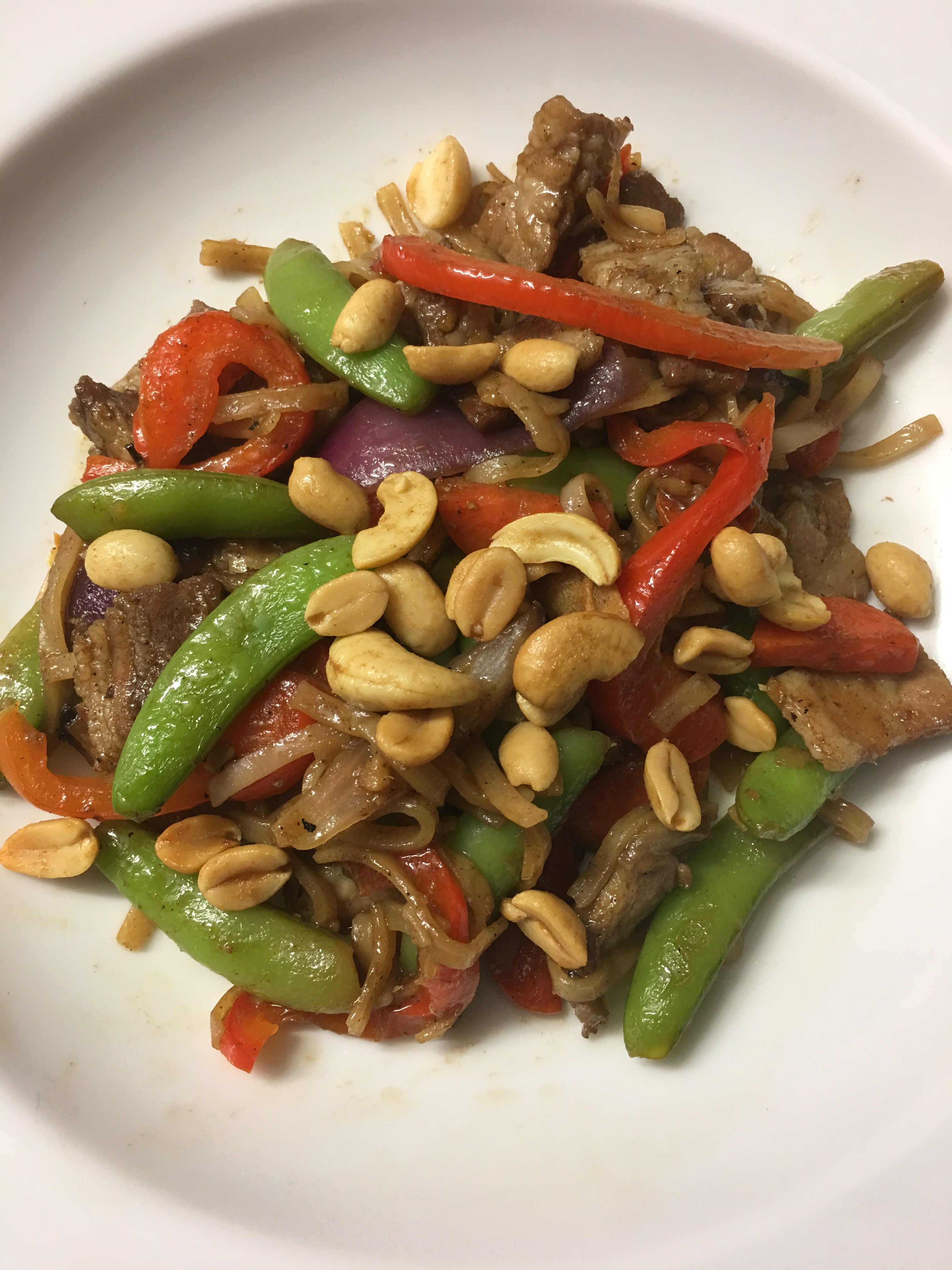 600g pork, thinly sliced
2 Tbs brown sugar
1½ Tbs soy sauce
½ tsp Chinese five spice
2 tsp fish sauce
200g dried Asian noodles (e.g. rice noodles)
2 Tbs oil
1 red or white onion cut into eighths
1 Tbs grated ginger
2 cloves garlic, crushed
1 red capsicum, thinly sliced
1 carrot, halved and sliced
200g snow peas, trimmed
¼ cup chicken or vegetable stock
¼ cup oyster sauce
¼ cup roasted cashews or peanuts or a mixture
1 small red chilli, seeded and thinly sliced (optional)
Combine pork, sugar, soy sauce, five spice and fish sauce in a bowl. Cook noodles according to packet instructions and drain well. Heat 1 Tbs oil in a wok or large frying pan and stir-fry the pork over high heat in two batches for 1-2 minutes. Transfer to a bowl.
Add remaining 1 Tbs oil to the wok and over high heat stir-fry the onion, ginger, garlic, capsicum and carrot for 5 minutes. Add pork, snow peas, stock, oyster sauce and stir fry for 2-3 minutes. Mix in the noodles and a dash of water if it's a bit dry. Serve garnished with the nuts and the chilli.
Substitutions:
– beef or chicken thighs instead of pork
– broccoli florets, green beans, spinach, asparagus or bok choy instead of snow peas