What the supermarkets here call pork spareribs are actually pork belly rashers, as they have no bones. I bought a packet and was planning to cook them with a sticky sauce. Then my Thai friend Pom gave me some plums, so I decided to throw them in towards the end of the cooking time. The result was delicious with the fruit providing just the right contrast to the richness of the meat.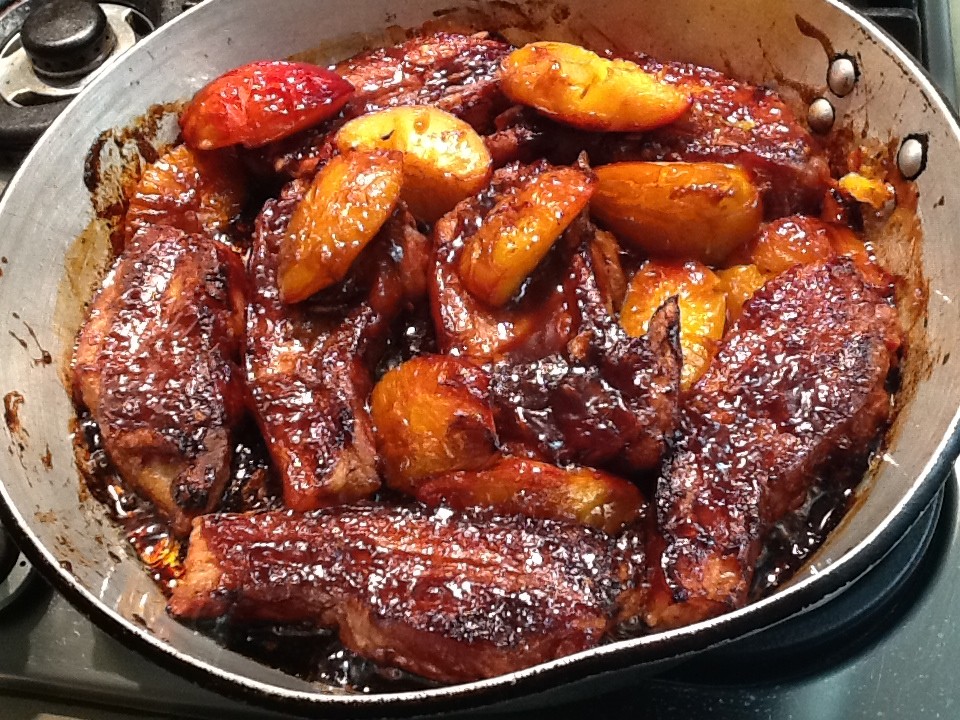 8-10 pork belly rashers or spare ribs
salt and freshly ground black pepper
2 Tbs BBQ sauce, or HP sauce or Tomato Ketchup
2 Tbs oyster sauce or Sweet Chilli Sauce
1 Tbs Worcestershire sauce
1 Tbs honey or brown sugar or maple syrup
1 crushed clove garlic
2-3 tsp grated fresh ginger
About 8 plums
Preheat oven to 180°C. If liked remove rind from the pork. Leaving it on results in chewier pork, but I like it that way. Place pork in a baking pan and season on both sides. Bake for an hour to an hour and a half or until tender, turning them over about halfway through the cooking. Tip off the fat. Mix the three sauces with the honey/brown sugar or maple syrup, garlic and ginger and spread some over the pork. Add the plums, stoned and cut into quarters. Return pan to the oven for about 15 minutes then remove, turn the pork over and spread with remaining sauce. Continue to cook for a further 15 minutes or until nicely glazed and plums are cooked. Serve with steamed rice and steamed bok choy.
Serves 3-4
Variations: leave out the plums altogether if preferred, or substitute peaches or nectarines.