Kale is a member of the brassica family, which includes cabbage, cauliflower, broccoli and brussels sprouts. First cultivated around 2000 BC there's nothing new about this green leafy vegetable, but in the past few years it's enjoyed a revival as a super food.
Packed with vitamins and minerals, kale has high levels of vitamin K and C as well as iron.  Antioxidants make it great for lowering cholesterol and while you can cook it, just like spinach, the best way to maximise the nutritional benefits is to eat it raw.
The first kale salad I made was tough and chewy. I ate it because it was good for me, not because I enjoyed it. But the following day I discovered that the leftovers were delicious. The trick is to dress the salad several hours before serving, so the kale leaves soften. Then you add a bit of crunch to the salad just before serving with some nuts, seeds and crispy pita bread.
My brother David passed on this recipe from a café where he had lunch in Vancouver recently. The "recipe" came from dissecting and studying what was on his plate and taking notes. I've further adjusted his version with the addition of tahini to the dressing and crunchy fried pita bread on top.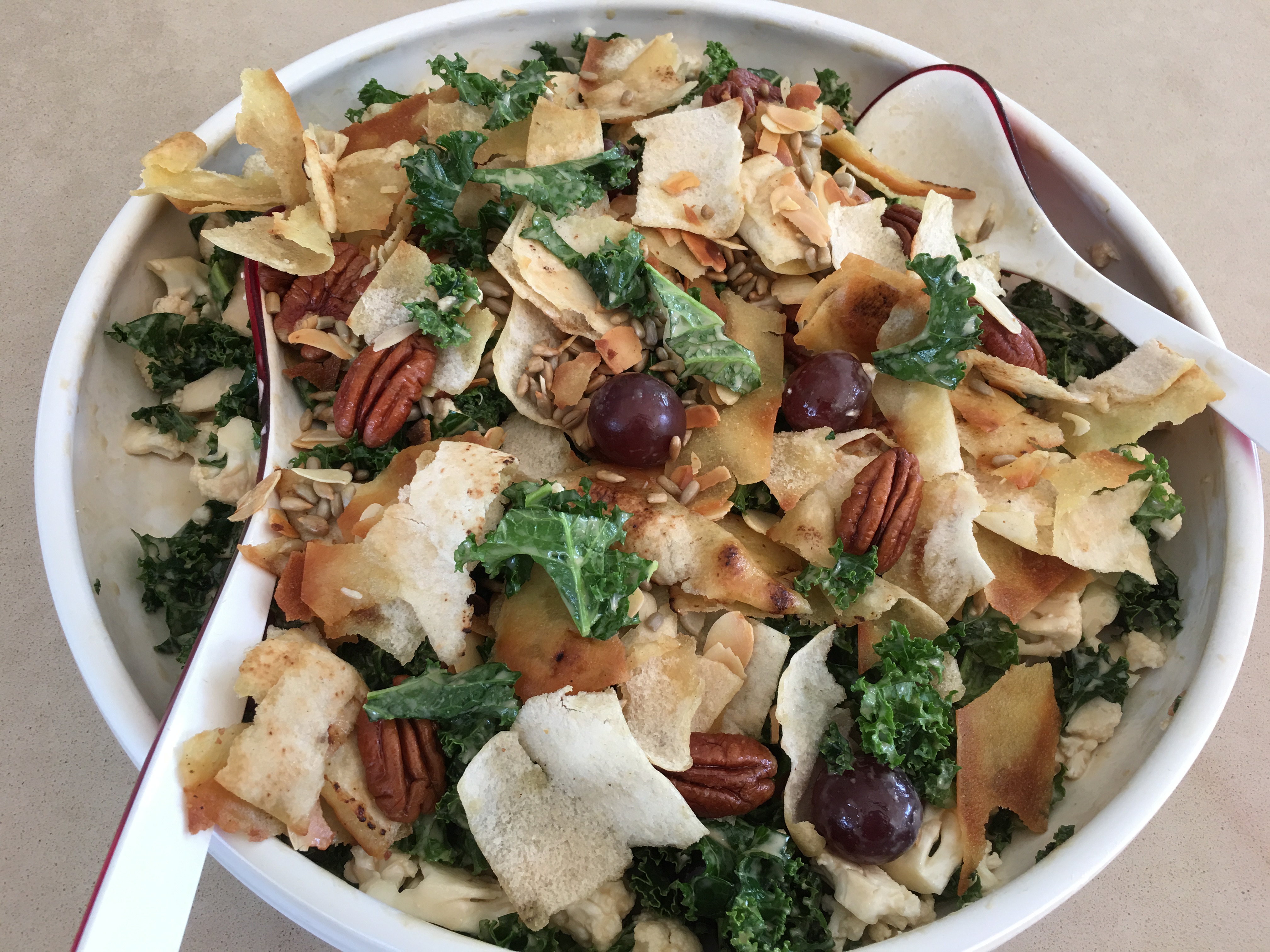 1 bunch kale
1 cup seedless grapes (I used red ones)
2 cups thinly sliced raw cauliflower
2 spring onions or ½ red onion, sliced (optional)
Dressing:
Juice of 1 large orange (about ½ cup)
½ cup vegetable oil
2 Tbs soy sauce
¼ cup cider vinegar
2 Tbs tahini
1 Tbs sesame oil
2 Tbs honey (sugar or maple syrup)
1 clove garlic, crushed
Topping:
1 large pita bread
2 Tbs olive oil
2 heaped Tbs each flaked almonds, pecan nuts and sunflower seeds
Wash kale, spin dry then remove stalks and slice thinly. Cut cauliflower slices into smaller pieces. Place kale, grapes, cauliflower and onion in a large salad bowl.
Using a stick blender or food processor mix all ingredients for dressing till smooth, then pour into a jar.
Add enough dressing to moisten the salad, mix well then stand for several hours before serving. You will have enough dressing left for another time.
Meanwhile for the topping, separate the two sides of the pita bread and cut 2-3 cm pieces. Heat oil and add the pita, nuts and seeds. Cook over moderate heat, stirring, until pita is golden.
Give the salad a final mix, top with the pita mixture and serve.
Serves 4
Variations: use pine nuts instead of pecans or almonds. Use spinach instead of kale.