We lived in Kuala Lumpur for three years in the mid-1980s. The street food sold by people called hawkers was fantastic and my favourite dish was char kway teow.
A delicious mix of rice noodles, prawns, egg, garlic and other flavourings, I've tried many times to make char kway teow taste exactly the way I remember it. Unfortunately I've come to the conclusion that it's not possible. Even my Malaysian friends agree with me. You need to go to Malaysia or Singapore for the real thing.
My recipe has been adapted and tweaked over the years to produce a dish which might not be 100% authentic, but which you can make easily at home with readily-available ingredients. In Malaysia they add blood clams, known as kerang. If you can find them that's wonderful, throw them in, but I just leave them out.
Fresh rice noodle sheets which you cut into strips are available in Asian grocers, but the ready to eat rice noodles sold in most supermarkets work well. Not quite the same, but still delicious. If you're going to make a trip to an Asian grocer for the noodles you will also be able to find Chinese sausage and garlic chives there, as well as all the sauces.
This recipe serves 2. If you need to serve more people, make another batch, don't double the recipe.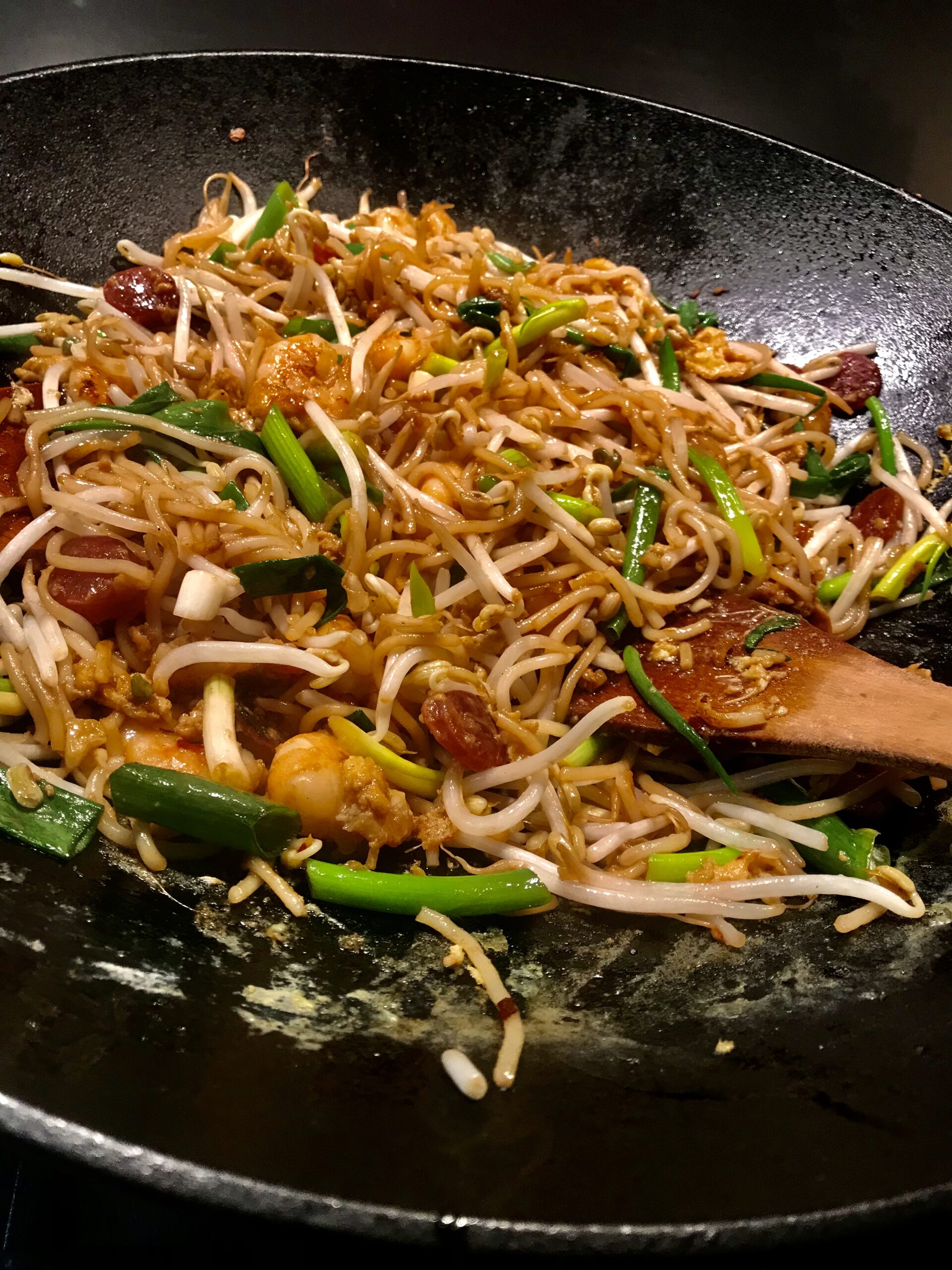 200g rice noodles (see note below)
2 Tbs vegetable oil
2 cloves garlic, finely chopped
12-15 peeled and deveined prawns (preferably uncooked, but cooked also work)
1 lap cheong (Chinese sausage) thinly sliced (see note below)
Good pinch of crushed dried chillies, to taste (or add a little Sambal Oelek paste)
2 eggs, beaten
2-3 tsp soy sauce, to taste
2-3 tsp kecap manis (see note below)
2-3 tsp oyster sauce
1 bunch garlic chives or spring onions
200-250g beansprouts
If using rice noodle sheets (available in Asian stores) cut them into 1cm strips and separate them with your fingers. If using ready to eat rice noodles, cut the end off the bag and zap it in the microwave for 1 minute.
If using garlic chives (available in Asian stores) cut them into 4cm lengths. If using spring onions, slice thinly on the diagonal.
Heat oil in a wok over high heat. Add the garlic, prawns and sausage and stir-fry for a minute or two. Add the noodles and the crushed dried chillies and toss well to combine. Let the noodles get a bit stuck and charred, before you scrape them off. Add the spring onions or garlic chives and beansprouts and mix in.
Push everything to one side, pour the eggs into the space and cook them like scrambled eggs, allowing them to set, then breaking them up.
Add the 3 sauces. Start with a couple of teaspoons of each, taste and add more if necessary. Gently mix everything together. The beansprouts and chives or spring onions will still be raw and crunchy. Don't overcook – you want the egg to still be soft.
Serves 2
Notes: (1) in Australia shelf-stable (long life) rice noodles are located in the Asian aisle of big supermarkets under the Wokka brand. Inside the packet are two packets each weighing 200g. I used one for this recipe. You might also find ready-to-eat rice noodles in the refrigerated pasta and noodles section of your supermarket. (2) Chinese sausage is sold in a shelf-stable (long life) packet in the Asian aisle of Woolworths and Coles. (3) if you can't find kecap manis (sweet soy sauce) use more ordinary soy sauce and add a good pinch of sugar.