These rice paper rolls make a refreshing aperitif or light dinner.  There's no cooking involved making them the perfect choice for a hot summer's evening when everyone is feeling lazy, even the cook.
The rolls can be made up to three hours ahead and kept in the fridge, covered with plastic wrap, so they don't dry out. Vary the ingredients according to what you have on hand.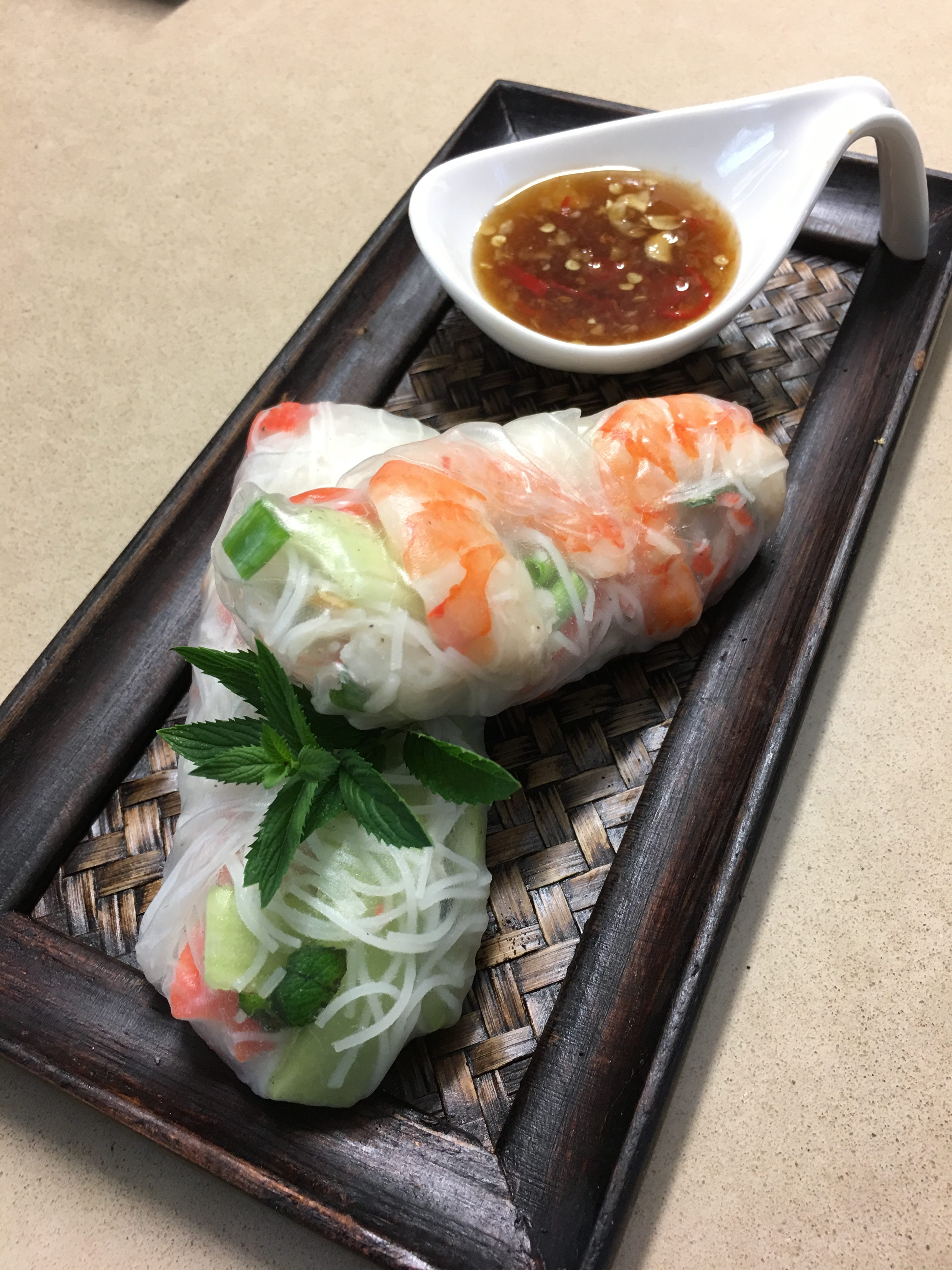 100g vermicelli noodles
350g cooked prawns, cut in halves horizontally
½ cup each coarsely chopped coriander and Vietnamese or ordinary mint
1 Lebanese cucumber or half a telegraph cucumber, cut into matchsticks
2 spring onions, thinly sliced
Salt and freshly ground pepper, to taste
10 rice paper wrappers (approx)
Dipping Sauce:
1 clove garlic, peeled
30g palm sugar or brown sugar
4 Tbs lime or lemon juice
3 Tbs fish sauce
1 small red chilli, thinly sliced
To garnish:
Vietnamese mint or ordinary mint
Place vermicelli in a bowl and pour over boiling water to cover. Stand for 2-4 minutes or until tender, then drain well. Use scissors to roughly cut the vermicelli into shorter lengths then place them in a bowl with the prawns, mint, cucumber and spring onion. Season to taste.
For the dipping sauce, pound garlic and sugar to a paste in a mortar and pestle then mix in the remaining ingredients. If preferred, instead of making the dipping sauce serve the rolls with store bought Thai Sweet Chilli Sauce.
Fill a bowl with hot water. Working with one rice wrapper at a time, submerge in water to soften for about 20 seconds, then place on a damp tea towel. Spoon some of the prawn filling down the centre, fold in the ends, then roll up tightly to form a cylinder. Place on a tray lined with non-stick baking paper and cover with a damp tea towel. When you have made them all serve immediately or cover with plastic wrap and refrigerate until serving time, up to 3 hours.
Serve 2 or 3 rolls per person, with the dipping sauce and mint.
Makes about 10 rolls
Note: rice paper wrappers are sold in most supermarkets and Asian grocery stores.