Sausage rolls have been in my repertoire for donkey's years and there's already a recipe on this blog.They are always popular and freeze well either uncooked or almost cooked which is what I do, so they just need a brief heating through before serving.
The food blog Belly Rumbles by Sara McCleary featured a recipe recently for decorating sausage rolls to look like little pigs. As four of our grandkids were coming to stay I thought it would be fun to make them some Little Piggy Rolls. Belly Rumbles uses the filling below which has bacon and cheese added. Use this or the traditional filling on my previous blog, which just uses pork mince.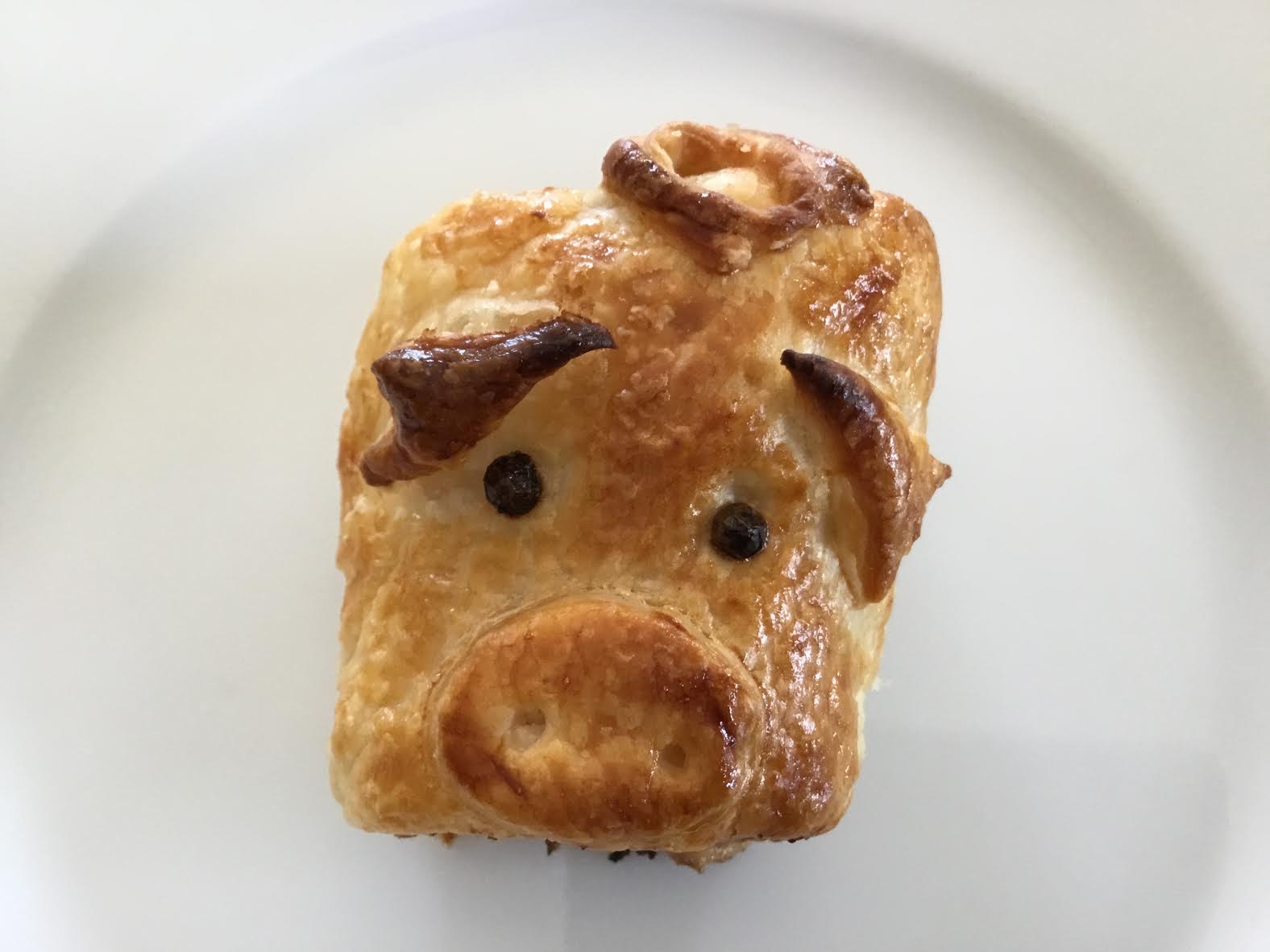 5 sheets ready-rolled puff pastry (each 25cmx25cm)
1 egg beaten with 1 Tbs water, to glaze
Filling:
500g pork mince
1 small onion, very finely chopped
3 rashers bacon, finely chopped
125g grated or finely diced cheddar cheese
2 tsp Worcestershire sauce
2 eggs
2 Tbs chopped Parsley
1 Tbs tomato sauce (ketchup)
Mix all ingredients for filling then follow the method on my previous blog for Sausage Rolls. I used 4 and a half sheets of puff pastry, cut the four whole sheets in half and made 4 sausage rolls from each of the 9 halves. Total 36.
I decorated 16 as Little Piggies and 20 with sesame seeds (as per traditional recipe). I used the remaining half sheet of pastry to make the features. Usually I would get 12 sausage rolls per sheet of pastry, but I wanted them a bit bigger for the Piggies.
To decorate the Little Piggies you will need enough extra pastry for the ears, snouts and tails and whole black peppercorns for the eyes.
When the sausage rolls are ready to go in the oven, arrange them on oven trays lined with paper, putting the join/seam underneath so you can't see it. Use extra pastry to cut out ovals for the snouts, triangles for the ears and long strips for the curly tails. I didn't have an oval cutter so I used the small round lid from a bottle of vanilla essence, then stretched them a bit to make them oval.
Brush the sausage rolls with egg wash, then arrange the snouts, ears and tails in place, as shown in photo. Use peppercorns for the eyes and the pointy end of a chopstick to make the nostrils. Brush features with egg wash.
Cook sausage rolls according to previous recipe. Serve warm. Can be frozen raw or almost cooked, then just heated through before serving.
Makes about 36