This delicious recipe is adapted from one which appeared recently on the New York Times Cooking site.
The original version used two cups of brown sugar and one cup of icing sugar which seemed an awful lot, so I've cut it down to one cup of brown sugar and a quarter of a cup of icing sugar. The result is sweet enough for most people's tastes, but if you have a sweet tooth make double the amount of glaze.
I left the bourbon whisky out of the glaze and made 12 slightly larger rolls instead of 18. If you like, add a tablespoonful of any whisky to the glaze. I made the dough in a food processor rather than a mixmaster because I do pretty much everything in my Magimix.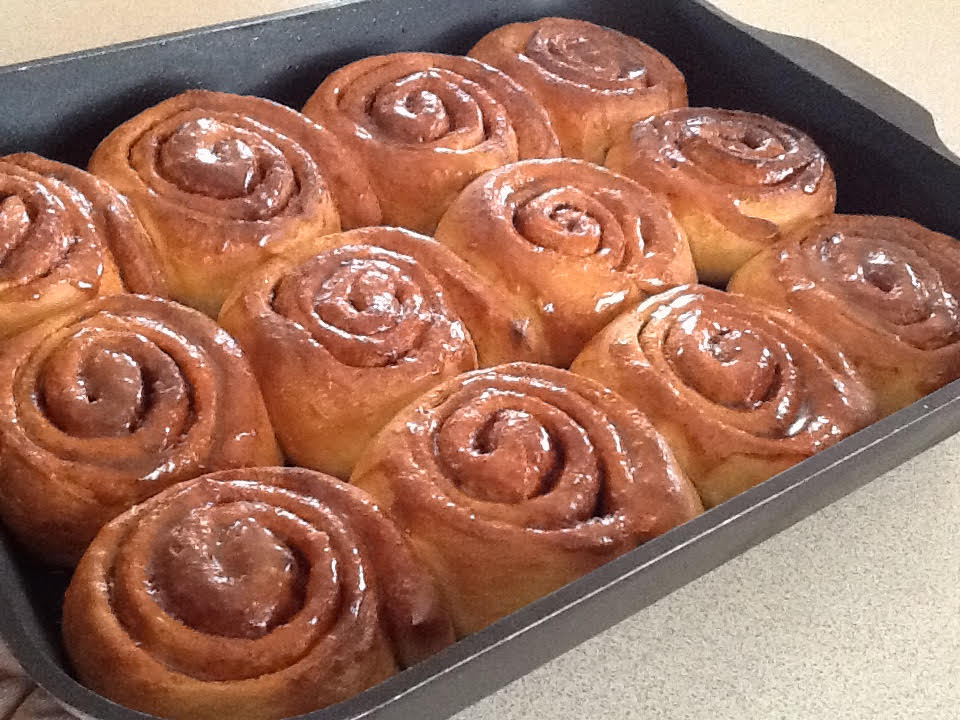 1 cup milk
75g butter
3 cus plain flour
¼ cup brown sugar
2 tsp dry yeast
1 tsp salt
¾ tsp ground cardamom (or cinnamon)
1 egg
Filling:
50g butter
½ cup brown sugar
1½ tsp ground cinnamon
½ tsp ground nutmeg
Glaze:
¼ cup brown sugar
2 Tbs water
25g butter
1 tsp vanilla essence
¼ cup icing sugar, sifted
Heat milk for a minute in the microwave then add the butter and allow to melt. Place flour, sugar, yeast, salt and cardamom or cinnamon in a food processor. Process for a minute then gradually add the warm milk and butter and the egg through the feed chute with the motor running. When mixture forms a sticky ball stop the motor and tip dough onto a floured surface and knead for 3-4 minutes until smooth. Form into a ball and place in an oiled bowl. Cover with a tea towel and leave to rise in a warm place for 2-3 hours.
Meanwhile for the filling, heat butter in a small saucepan, swirling the pan from time to time, until it turns nut brown. Watch carefully as it won't take long. Cool. Mix the brown sugar with the spices.
When dough has doubled in size tip onto a floured surface and roll into a 30×40 cm rectangle with a rolling pin. Brush with the brown butter leaving about a centimetre all round. Drizzle with any remaining butter, so you use it all. Sprinkle sugar and spice mixture all over then roll up from the long side. Cut into 12 even slices. Arrange slices evenly in a buttered 20x30cm rectangular roasting pan or baking tray – 3 one way and 4 the other – they will expand to fill the gaps. Leave to stand for 45 mins or until doubled in size.
Pre-heat oven to 180°C. Bake rolls for 20-25 mins then remove from the oven and allow to cool for 10 mins. Meanwhile for the glaze heat brown sugar, water and butter in a small saucepan for 2-3 mins, or until thickening. Add vanilla and icing sugar and continue to cook, stirring, until you have a nice thickish icing. Leave to cool until rolls are ready.
Drizzle glaze all over the rolls, then cool a bit so the icing firms up. Serve warm. Any leftover buns can be frozen or refrigerated for up to 3 days. Reheat in the oven before serving.
Makes 12 rolls