Back in March I posted a recipe for Chicken with Pernod, given to me by my cousin Mary Beth. Pernod adds a wonderful depth to any sauce. Once you've made it you will understand why this chicken dish was the most popular in Renés restaurant.
Today's recipe is a loose interpretation of one by British food writer Simon Hopkinson. In his version he keeps the heads and tails from the prawns and makes a bisque-like, smooth sauce to go with the pasta, by pushing everything except the prawns through a sieve. This is my chunky version. French in style, with lots of butter and cream, this recipe is not on the Weight Watchers diet, but it is absolutely delicious and perfect for a special occasion. We had it to celebrate a birthday in Covid lockdown.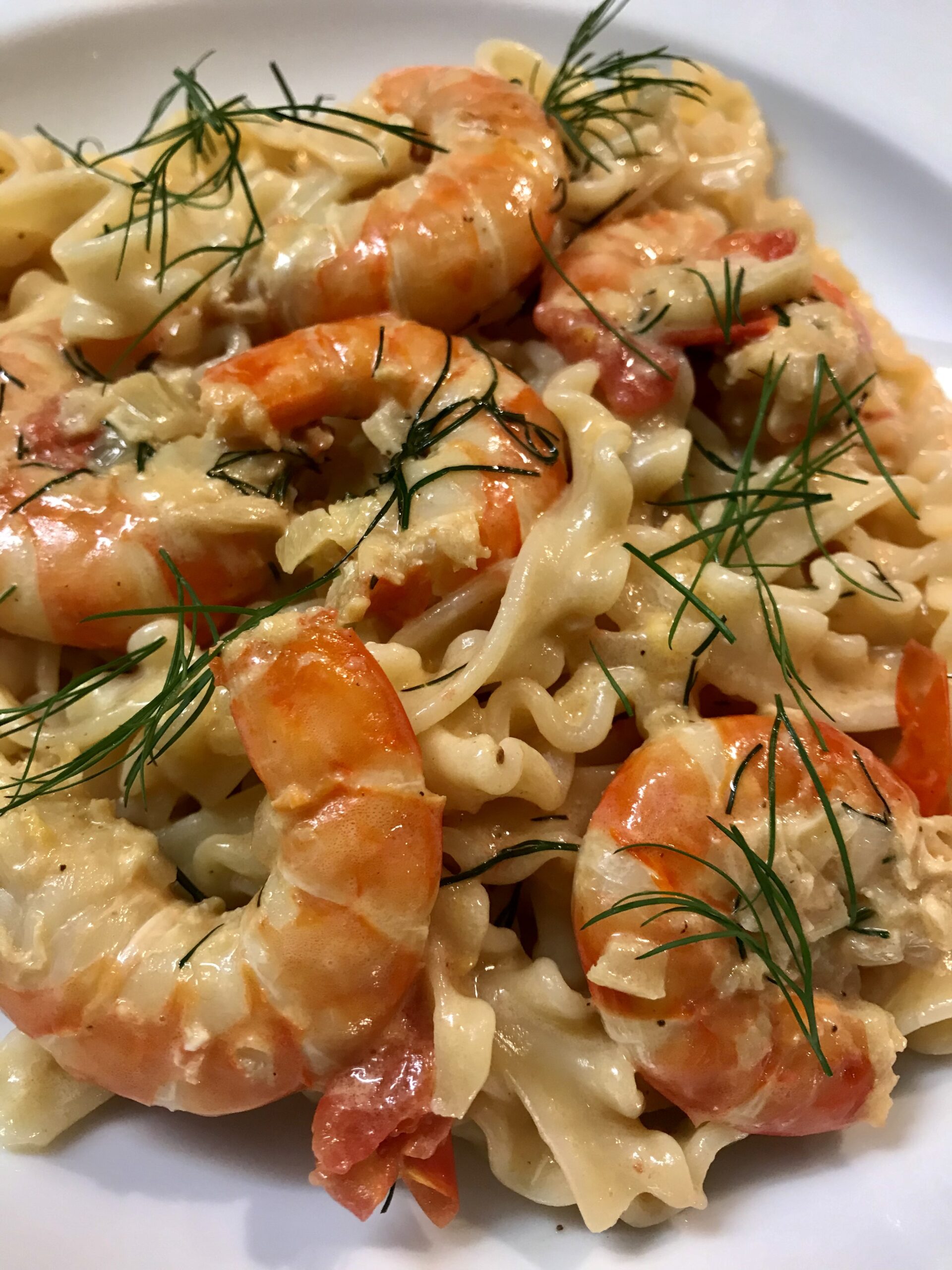 400g raw shell-on prawns, fresh or thawed from frozen (see note)
50g butter
2 shallots or a small onion, finely chopped
1 clove garlic, peeled and chopped
1 Tbs Pernod
¾ cup white wine
2 ripe tomatoes or 8 cocktail tomatoes, chopped
150 ml cream
Salt and freshly ground black pepper
150g dried long pasta (linguine, tagliatelle, fettuccine)
Grated rind and juice of ½ a lemon
1 Tbs chopped dill
Peel prawns and put the pasta on to cook in plenty of boiling, salted water until al dente. Heat the butter in a large frying pan and gently cook the onion and garlic until soft and translucent, stirring from time to time. Add the prawns and cook, stirring, for a minute or two, until they change colour. Add the Pernod and wine and cook on a moderate to high heat to reduce by half. Add the tomatoes, cream, lemon rind and juice and cook, stirring, for 3-4 minutes, until the sauce has thickened a bit. Season to taste.
Mix cooked pasta into the sauce with the chopped dill, saving a few sprigs to garnish.
Serves 2
Note: if you only have cooked prawns, add them to the pan a bit later, with the tomatoes and cream. If you are making the recipe with peeled prawns, either cooked or raw, you will need about 200g.