This delicious recipe for Shepherd's Pie, slightly tweaked, comes from Prue Leith, now 81 years of age and one of the great British cooks of all time. It's without a doubt the best Shepherd's Pie I've ever eaten.
On the other side of the world, Margaret Fulton began the post-War crusade to improve what we were cooking and eating in Australia, closely followed by Stephanie Alexander and Maggie Beer.
These four women provided inspiration to aspiring cooks like me. However, I believe the real watershed came with the publication of the Australian Women's Weekly cookbook in 1970. In the mid-1970s they started to publish a series of paperback cookbooks, covering a different topic in each book. Every few months another title was published and my friend Ferne and I waited impatiently for each one. The recipes were simple to follow with great photography and we both cooked almost every recipe in every book. We spent hours browsing through, jotting down the names of recipes and swapping notes after we made something. They published a book on Chinese cooking, Italian cooking and other cuisines we hadn't seriously tackled before. Local supermarkets started to stock the ingredients called for in these "exotic" recipes, because people kept asking for them. The children's birthday cake book was a huge hit with our kids, who often chose the cake they wanted months before the big event. Here's an interesting article about this cooking revolution.
If you've never eaten black pudding, give it a go in this recipe. With the bacon it adds depth to the meat sauce, but you can't tell it's there. Black pudding is available in Woolworths and IGA supermarkets under the Clonakilty brand. Adding sweet potatoes to the traditional potato topping is also a winner. Use half and half or any ratio you prefer. Sorry I forgot to take a photo until we had eaten half of it!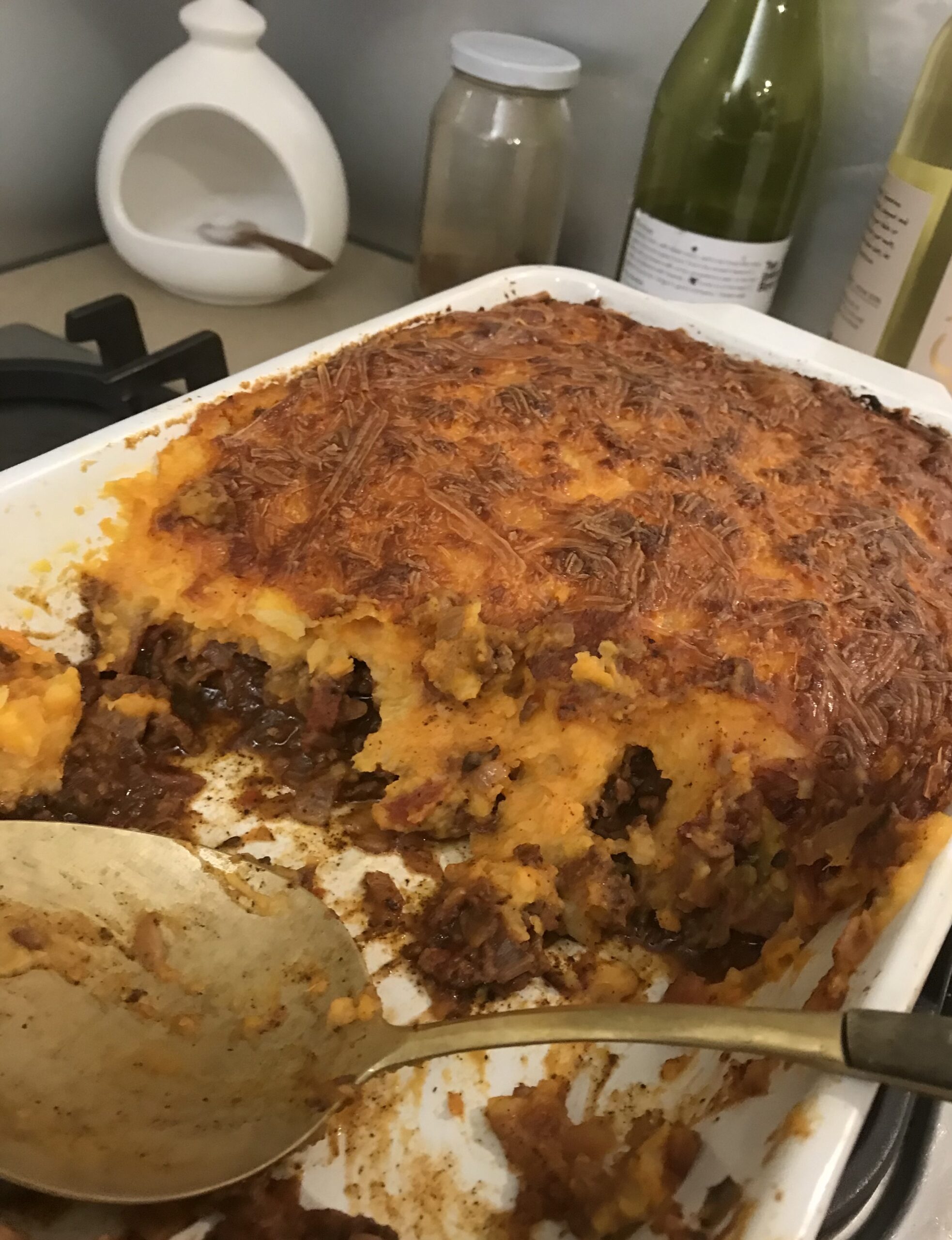 2 Tbs oil
2 onions, finely chopped
2 cloves garlic, crushed
500g minced beef or lamb
100g black pudding, skinned and diced
3-4 rashers rindless streaky bacon, chopped
2-3 stalks celery, finely chopped
1 x 400g can chopped tomatoes, including juice
1 Tbs tomato paste
½ tsp dried thyme
1 beef stock cube (I used an Oxo)
1 tsp sugar
Salt and freshly ground black pepper
Water or wine (red or white) as required (1 cup or more)
Topping:
500g potatoes, peeled and cut into chunks
500g sweet potatoes, peeled and cut into chunks
50g butter
1 cup grated cheddar cheese
Heat the oil in a large, deep frying pan and cook the onion and garlic until soft but not browned. Add the minced beef, black pudding, celery and bacon and cook, stirring, for ten or more minutes, until nicely browned. Add the tomatoes, tomato paste, thyme, stock cube, sugar and then simmer the sauce for 45 minutes, stirring often. As required during this time, add a bit more water or, if preferred, wine, so the sauce doesn't stick. After 45 minutes it should be thick and syrupy. Season to taste then spread it in a lasagne-type dish, large enough to cover the meat sauce with the potatoes.
While the meat sauce is cooking, boil the potatoes and sweet potatoes in water to cover, with a teaspoon of salt for 15-25 minutes, or until tender. The sweet potatoes will cook faster than the ordinary potatoes. Cut them into larger pieces, so everything will be cooked at the same time. Drain well, add the butter and mash until light and smooth. Season with salt and pepper then dollop over the meat sauce and spread out evenly with a fork. Sprinkle grated cheese over the top. Dish can be prepared in advance to this point.
Preheat the oven to 180°C. Bake the pie for about half an hour if the mixture is still hot, or about three quarters of an hour if it's been made ahead and is cold. Serve with a salad or green vegetable.
Serves 6-8