The name Bang Bang is derived from the way the chicken is tenderised before cooking this recipe. Not something you have to worry about in this version. No doubt the original recipe also had you chasing the chook around the backyard and catching it, before you got to the bang bang bit.
After catching and tenderising your chicken, a traditional Sichuan recipe for Bang Bang Chicken Salad starts with cooking it whole. This is the quick version where instead you head to the supermarket. Perfect for those days when you have limited time to organise something tasty for dinner.
Buy a cooked chicken at the supermarket – actually I bought a half – then grab some beansprouts, cucumber, baby spinach, coriander and a lime. Hopefully you have all the ingredients for the dressing in your pantry.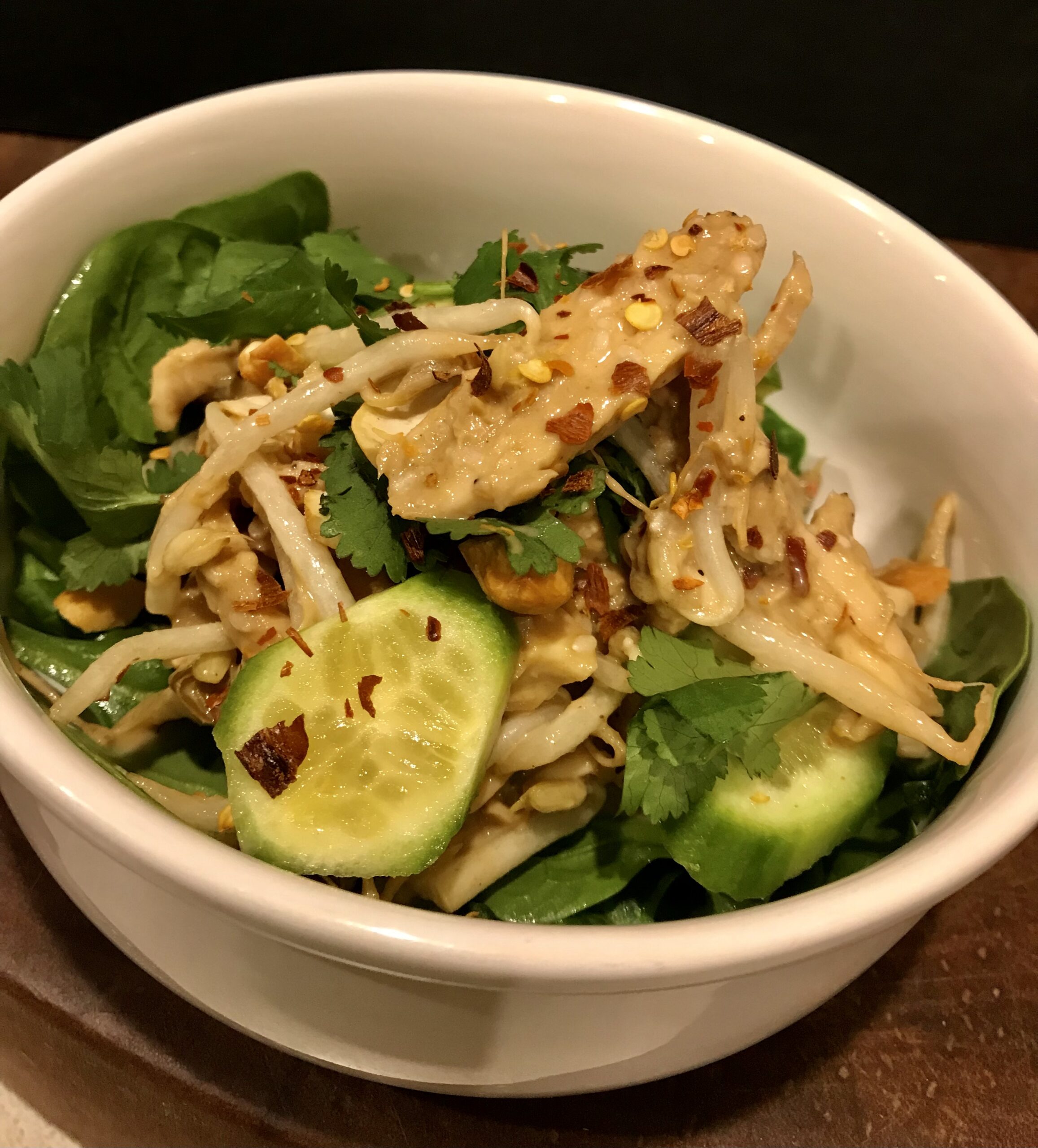 ½ a roast chicken (more or less)
2-3 cups beansprouts
2 spring onions, finely sliced (optional)
Dressing:
2 Tbs sesame seeds, lightly toasted
2 Tbs Tahini paste
1 Tbs sugar
2 Tbs soy sauce
1 clove garlic, crushed
2 Tbs vinegar (Chinese black if available, if not any will do)
4 Tbs vegetable oil
Pinch chilli flakes
To garnish:
3-4 handfuls baby spinach leaves
A handful of fresh coriander, coarsely chopped
1 small cucumber, thinly sliced
2 Tbs roasted peanuts or cashews, coarsely chopped
Good pinch chilli flakes or some fresh finely diced chilli
Shred the chicken and place in a bowl with the beansprouts and spring onions (if using). Whiz all the ingredients for the dressing in a food processor or blender. Add the dressing to the chicken – you may not need to use it all.
Line a serving dish with spinach leaves. Pile the chicken salad on top, then garnish with the coriander, cucumber, nuts, chilli and a piece of fresh lime. As you can see in the photo, I forgot the lime!
Serves 3 (more as part of a buffet)