Everyone loves chicken satay and this recipe can be made in no time with ingredients you probably have in the pantry. It's easy to halve for two or three people.
The first time I made this the washer upper complained that the frying pan was very difficult to clean, because of the honey. A week or so later I was chatting to a friend about the virtues of using non-stick baking paper to line an oven tray when you're baking salmon or chicken, so there's nothing to wash up. My friend said this trick also works when you're cooking something in a frying pan.
So I tried it and it works. Just cut a circle of non-stick baking paper to fit the base of the pan and cook the satays on top. It doesn't affect how they brown and the pan is so much easier to clean. No complaints from the washer upper this time.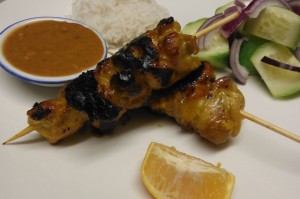 1 kg lean chicken thigh meat
Marinade:
2 cloves garlic, crushed
2 Tbs oil
2 tsp turmeric
1 Tbs honey
½ tsp salt
Sauce:
¼ cup peanut butter
¼ cup Thai sweet chilli sauce
1 tsp fish sauce
2 tsp soy sauce
1/3 cup tinned coconut milk (shake can first)
To serve:
Steamed rice
Lime or lemon wedges
Sliced red or white onion and cucumber
Cut chicken thigh into cubes. Mix marinade ingredients and add chicken. Leave to marinate for at least half an hour. Meanwhile, soak 16-20 short wooden bamboo skewers in warm water.
Thread chicken cubes onto skewers. Heat a large non-stick frying pan or griddle pan and cook satays for a minute or two on all four sides, until cooked through and browned.
Meanwhile mix all ingredients for sauce. Serve satays with the sauce, steamed rice, sliced onion, cucumber and lemon wedges.
Serves 6