I've been writing this blog since 2011 and this is the first Mexican dish. Fajitas make a quick and easy mid-week dinner which even some fussy kids might enjoy.
It's a good option for those trying to cut down on carbs, so I had mine without the tortilla, Serving with tortillas makes it go further, so double the recipe will serve a family of six.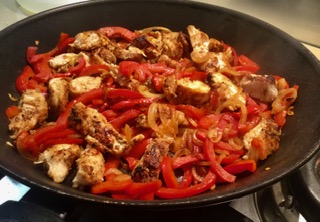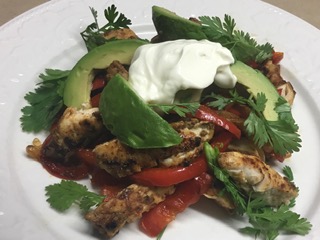 2 boneless, skinless chicken breasts
1 onion, sliced or cut in wedges
1 red or yellow capsicum, or half of each, sliced
2 Tbs olive oil
½ lime, juiced
Seasoning:
1 tsp each chilli powder, ground cumin and garlic powder
½ tsp each paprika, oregano and salt
Freshly ground black pepper, to taste
To serve:
Tortillas, warmed
Sour cream
1 avocado, sliced
Coriander
Mix seasoning in a bowl. Trim chicken breasts and cut each into 3 or 4 thick lengthwise strips. Add to the bowl of seasoning and mix to coat well.
In a large frying pan, heat half the oil, add chicken and cook for 3-4 minutes on each side. Remove from pan and add the other tablespoonful of oil with the onion and pepper strips. Stir fry for 3-4 minutes until cooked and starting to brown. Slice chicken and return to the pan. Stir fry for a couple of minutes, then drizzle with the lime juice. Serve with tortillas, sour cream, avocado and coriander.
Serves 2-3