These prawn wontons are quick to make using a packet of wonton wrappers from the supermarket. Thaw the packet enough to remove the number you need, then stick them back in the freezer.
I used frozen green (raw) prawns from Aldi which are peeled and deveined and you just have to remove the tails. Remove the number you need from the packet and then stick it back in the freezer.
I used pesto I had frozen in ice cube trays last summer. We grow lots of basil which is an annual. I always make several batches of pesto just before the first frosts arrive, because frost invariably kills the plants. If I had used freshly-made pesto it would had been a brighter green but the taste was still good. Then I used ginger which I also freeze in ice cube trays and keep in my freezer, so I always have it on hand.
Adjust the recipe to serve more people. Three makes a nice starter or light lunch, four makes a light main course, which we ate accompanied by a substantial side salad.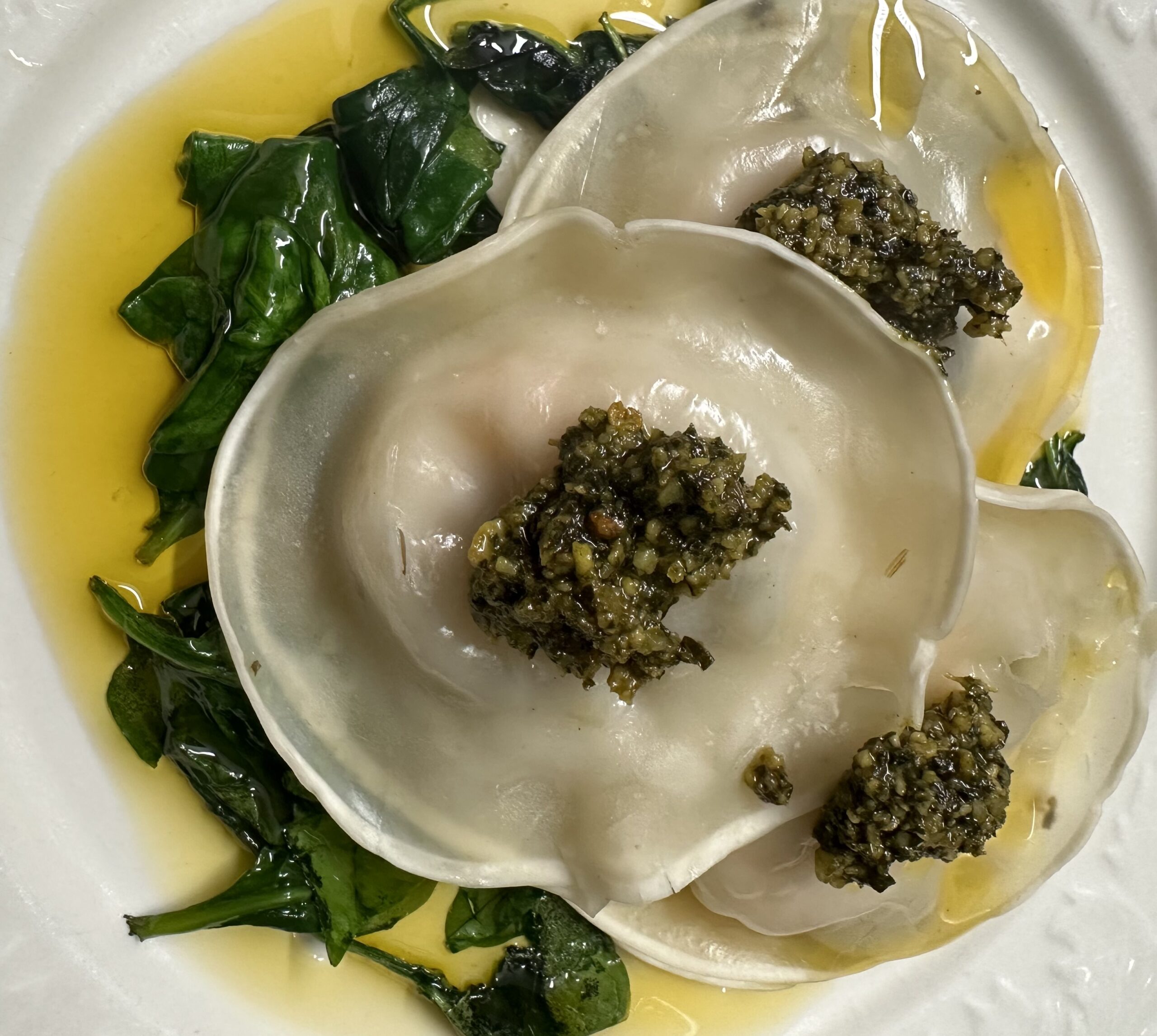 16 wonton wrappers, thawed
8 very large or 16 medium green (raw) prawns, thawed if frozen and dried
Pesto preferably home-made
1 Tbs grated fresh ginger, optional
2 cups baby spinach leaves
2 tsp butter or oil
Extra virgin olive oil
Arrange half the prawns on half the wonton wrappers. If using two prawns, place them like two moons facing inwards so they make a neat circle in the middle. If using ginger, mix it into the pesto. Top the prawns with a teaspoon of pesto. Moisten the bottom wonton wrapper with a little water around the edge, then press another wonton wrapper on top. Pinch well to seal.
Heat a large pan of water and when boiling, turn down a bit so it's simmering. Add the wontons one at a time and simmer for 2-3 minutes or until the wonton wrappers are translucent. Meanwhile place spinach in a small frying pan with butter or oil. Cook for a minute or two, until wilted.
Arrange drained spinach on 2 serving plates. Top with the wontons, drained then dried on kitchen paper. Mix a little oil into the remaining pesto and drop it over the top. Drizzle a little oil around the edge of the plates and serve.
Serves 2