When we were living in Paris fruit crumbles, which originated in England, appeared on almost every bistro menu.  Selling British grub to the French is no mean feat, so I always regard it as one of the UK's biggest culinary successes.
When we were living in Chile in the 1990s we had a Mapuche Indian chef called Jacinto who could make just about anything into what he called a Crumbly.  But he hadn't quite grasped the need for a Crumbly to be sweet, not savoury.  He once proudly served an apple crumbly which looked fantastic but which the kids refused to eat.  I was abstaining as I sometimes do at dessert time – otherwise I'd be roly-poly – so James said "Mum, you try it, it's disgusting."  Turns out Jacinto had put the usual layer of apples underneath, but had made the crumbly topping from some savoury sage and onion stuffing, left over from the Christmas turkey.  It was interesting, but it really didn't go with vanilla ice cream.
If I have any left over stewed fruit, or a few apples which are looking a bit tired and need using, I make individual crumblies in small souffle dishes.  To make the stewed apples go further you can mix in a few frozen raspberries or blackberries.   I buy both by the kilo and always have them in the freezer. The crumblies in the photo are made from rhubarb from the garden, cooked briefly with a dash of water and sugar to taste.  Once cooked crumblies will keep in the fridge for several days, ready to be whipped out, zapped for a minute in the microwave and eaten with a dollop of cream, or just as they are.  They just hit the spot and are not large enough to be overly filling. People with larger appetites might prefer to use larger dishes.  If you haven't got a kilo of fruit, just use what you have and adjust the topping accordingly – it's basically 2 parts flour to 1 part each of butter and sugar.  Any leftover crumble topping can be stored in a jar with a lid in the fridge and used another time.
Fruit Crumbles
800g -1 kg sweetened stewed fruit
250g plain flour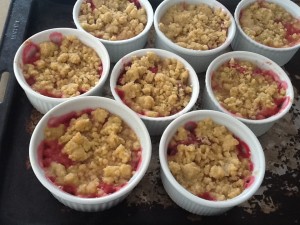 185g butter
3-4 Tbs brown or white sugar, to taste
2 Tbs porridge oats or macadamia nuts (optional)
Preheat oven to 180°C.  Cook peeled and sliced apples (rhubarb, peaches or whatever you are using) with a little water and sugar to taste until half cooked, but looking like a compote.  They will continue to cook in the oven.  Don't use too much water. It should be a thick compote. If using raspberries or blackberries add them now and don't cook them.  Grease 10-12 small dishes and fill them about two thirds full with the fruit filling.
Place flour, butter (cut into chunks) and sugar in food processor.  Process with the pulse button until it forms crumbs. There should still be small bits of butter visible.  If using oats or nuts add them now and process very briefly.  Cover fruit with crumble, place dishes on a baking tray and bake for about 25 minutes or until browned and bubbling.  Serve now or cool and refrigerate, covered, then reheat in microwave for about a minute each.  Serve with cream or vanilla ice cream.  If preferred make crumble in one large dish.
Serves 10-12 if made in small dishes