I've recently received two reader's requests.  One from my Chilean friend Sonia who remembers a Roasted Tomato Salad I made when she came to our house in Santiago, Chile.  It was given to me by my friend Ferne.  The other is from my American cousin Anne who remembers a cheese and tomato flan I made when she was in England in the 70s.  Fortunately I have a similar memory when it comes to food and knew immediately which recipe she meant.
The tomato salad needs to be made with Roma tomatoes because round varieties contain more water and don't hold their shape.  Once prepared the salad will keep for several days in the fridge.  It's a fantastic addition to a buffet or barbecue, perfect to have in the fridge over the holiday season and fairly quick to make when you're asked to "bring a plate".  Being asked to bring a plate to a pot luck lunch or dinner is quite common in Australia.  My Greek teacher, Michael Kazan, told us that when he first arrived in Canberra over 40 years ago and was asked to bring a plate he was somewhat perplexed.  If your host hasn't got enough plates, they're probably short of everything.  So he and his wife turned up with plates, glasses and cutlery.
Use your favourite shortcrust pastry recipe for the Lancashire flan, or buy it. Preparing the right amount of pastry and filling to suit your tin/dish is always hit and miss.  Quiche tins and dishes vary in their capacity, even ones with the same diameter.  I made up 250g of pastry (250g flour and 150g butter, plus a dash of water) and used the rectangular tin shown in the photo.  There was enough pastry left to make another small quiche shell which I partly cooked then froze empty, to use on another occasion.
Ferne's Roasted Tomato Salad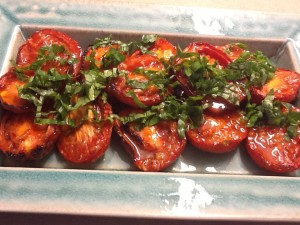 1 kg Roma tomatoes
4 cloves garlic, crushed
2 Tbs Thai sweet Chilli sauce
2 Tbs olive oil
Dressing:
2 Tbs olive oil
1 Tbs balsamic vinegar, preferably white
1 Tbs chopped fresh basil
Preheat oven to 200°C.  Halve tomatoes lengthwise and place cut side up on a cake cooling rack over a baking tray or dish.  Line the baking tray with baking paper to save on the washing up.  Mix garlic, chilli sauce and olive oil and brush generously onto tomatoes using it all up.  Bake 30-40 mins or until starting to brown.  Remove from oven and cool to room temperature.  Arrange in a serving dish.  Place oil and vinegar in a jar with a lid and shake well.  At serving time spoon over some dressing and sprinkle with basil.  Serve at room temperature.
Serves 8-10
Lancashire Cheese, Tomato & Bacon Flan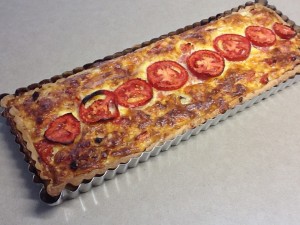 1 uncooked quiche shell made from
shortcrust pastry
and chilled
100g lardons or bacon
1 small onion, finely chopped
3 tomatoes, peeled, seeded and chopped (discard the seeds)
125g grated Lancashire cheese (or substitute cheddar)
2 large eggs
1 cup cream (or use half cream, half milk)
salt and freshly ground black pepper to taste
2 tomatoes thinly sliced
Preheat oven to 180°C. Line pastry case with foil and fill with corn or something similar to give weight.  Bake for 5-10 mins until pastry has set.  Remove foil and cook for a few more minutes until light golden, remove from oven.  Meanwhile fry lardons or chopped bacon in a non-stick pan until lightly browned. Drain and scatter over the base of the pastry case, then sprinkle onion, chopped tomatoes and grated cheese evenly over the bacon.  Beat eggs, cream and milk, season to taste and pour over.  Arrange sliced tomatoes over the top.  Bake for 30-40 mins until puffed and golden.  Serve cold or at room temperature.
Serves 8
Note: lardons are chunky bits cut from thickly sliced bacon or speck.