My mother used to make a dessert called Eve's Pudding which consisted of stewed apples topped with a simple butter cake mixture. It was a family favourite when I was growing up in England.
This quick and easy recipe combines the same simple ingredients, but instead of being underneath the cake the apples are mixed through. You can use oil or butter, although butter always gives a better flavour.
Served warm with cream or ice cream it's sure to please the whole family. Any leftovers are perfect for school lunch boxes.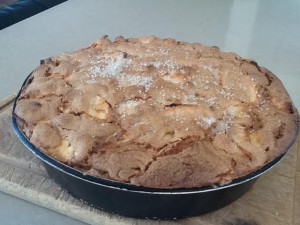 2 eggs
1¾ cups sugar
½ cup vegetable oil or melted butter
2 cups Plain flour and 2 tsp baking powder
(Or 2 cups self-raising flour)
4 tsp cinnamon
6 eating apples, peeled and sliced
Pre-heat oven to 180ºC. In a mixing bowl beat the eggs with the sugar and oil or melted butter until well combined. Fold in the sifted plain flour and baking powder (or self-raising flour) and cinnamon. Add the apples and mix to coat thoroughly. Tip mixture into a well-greased 22cm (9 inch) cake pan or pudding dish. Bake for 50 mins or until well risen and golden and a toothpick inserted in the middle comes out clean.
Serve warm or cold
Serves 8-10