Condensed milk which has been cooked until it turns into a thick caramel is called Dulce de Leche in South America.
It's popular all over the region and sold commercially in large quantities. I first came across it when we were living in Chile, where they call it Manjar. Many traditional desserts in Chile use Manjar and some people eat it like jam on bread or toast. It's sold in supermarkets in various sizes, in toughened plastic or foil bags.
Here in Australia Dulce de Leche is sold in a few specialty shops, but it's easy, if a little time-consuming, to make. Place two unopened tins of condensed milk in a large saucepan, cover with water and boil for two to two and a half hours. The tins must be fully submerged at all times because, as Nigella Lawson says, you don't want to have to clean caramel off the ceiling. Nigella suggests you boil a few tins at a time as they keep indefinitely until opened. But if you can't be bothered making your own Dulce de Leche, buy Nestlé's caramel filling instead. It's not quite the same, but it's close.
With biscuits and caramel in the store cupboard, cream in the fridge and a couple of bananas in the fruit bowl, you can whip up a Banoffee Pie in a jiffy.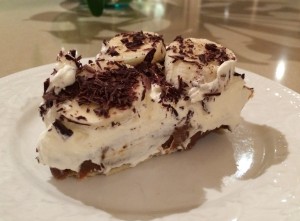 200g Digestive biscuits (plain or chocolate coated)
60g unsalted butter, melted
1 tin Dulce de Leche (see method above) or use Nestlé's Caramel Filling
½ cup cream
2 large bananas, sliced
300ml thickened or whipping cream
Chocolate to grate
Crush biscuits until fine in food processor. Mix with melted butter then spread evenly over the bottom of an 8″ (20cm) pie or flan dish and press down firmly. Chill in the fridge until set.
Heat Dulce de Leche or caramel filling in a small saucepan with the half cup of cream and whisk till smooth with a hand whisk. Allow to cool, then spread caramel over the biscuit base. Slice bananas and arrange over the caramel. Whip cream until soft peaks form then spread or dollop over the bananas. Decorate with grated chocolate. If preferred spread the whipped cream on first with the banana slices on top, then the chocolate, which is what I've done in the photo.
Serves 6-8
Alternative presentation: layer crumbs, caramel, whipped cream, banana and grated chocolate in short whisky tumblers. This free-form method makes it easy to halve the recipe which will serve 4-6, depending on size of the tumblers. If you want to cut down on fat and calories, just use biscuit crumbs in the bottom and leave out the butter.