When we were in Newcastle recently we dined at a restaurant called Sprout. The Kingfish Ceviche ordered by one of our party was so good we all had a taste!  I decided to try and recreate it on return to Canberra. I added the pink peppercorns (see note below) which were a definite plus to the flavour and colour combination.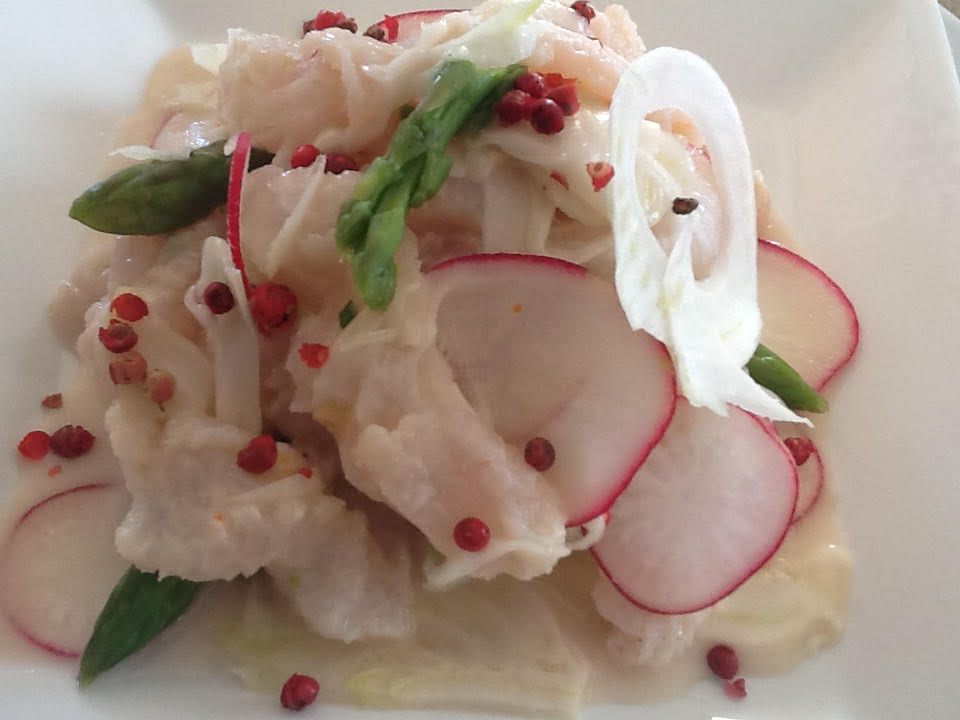 300g Kingfish fillets (or other firm white fish)
Juice of 1 lime or half a large lemon
1 small bulb of fennel, trimmed and thinly shaved
3-5 radishes (depending on size) thinly shaved
2 spring onions, very finely sliced on the diagonal
4 stalks asparagus, blanched and cut into 2-3cm lengths
2-3 tsp very finely sliced lemon grass
1 cup coconut milk
2-4 tsp fish sauce, to taste
2 tsp grated ginger
1 tsp finely chopped fresh chilli (or to taste)
2 tsp brown sugar
1 Tbs vegetable oil
Salt and freshly ground black pepper to taste
To garnish:
Pink peppercorns
Cut fish into bit size slices and mix with the lime or lemon juice. If you like your ceviche very lemony add more lemon juice. To blanch the asparagus, cook them in boiling water for 1-2 minutes then refresh under cold water, drain and pat dry with paper towel.
Leave fish for an hour or so, stirring from time to time, then mix in remaining ingredients, keeping some fennel, radish and asparagus for garnish. Season to taste then arrange on serving plates and garnish with the reserved vegetables and a few pink peppercorns.
Serves 6 as a starter
Note: A pink peppercorn (baie rose in French) is the dried berry of the Peruvian Peppertree. They were so-named because they look like peppercorns. The flavour is aromatic and only slightly peppery. They go well with all kinds of fish dishes, including Gravlax and smoked salmon. Available at specialty shops such as The Essential Ingredient.