My mother made Macaroni Cheese when we were kids. Along with Spaghetti Bolognese it was our only experience with pasta back then, before Italian cuisine took off. A baked pasta dish is the ultimate in comfort food.
On a recent trip to the USA I ordered a macaroni cheese which had large chunks of lobster folded through. It was divine.
Lobster is expensive so it always seems a sin to do anything to it but eat it cold with mayonnaise. But if you´re fortunate enough to live somewhere where it's cheap and plentiful, by all means add some to this dish. If not, the recipe also works well with prawns or crab meat.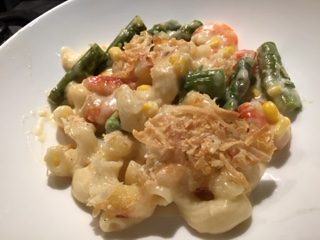 2 bunches asparagus (about 8 stalks)
1 cob fresh corn (or 1 cup frozen or canned) (optional)
2 cups macaroni or other small pasta
250g cooked lobster meat, crab meat or prawn meat (weight after shelling)
50g butter
2 Tbs plain flour
1 cup milk
1 cup cream
Grated nutmeg, salt and pepper to taste
1 cup grated Parmesan
1 cup breadcrumbs (preferably Panko or home-made)
2-3 Tbs extra grated Parmesan
Preheat oven to 180C. Trim off the woody ends of the asparagus, then cut them into 3 cm lengths. Cook in boiling salted water for 4-5 mins or until just cooked, then drain. Cook the corn and the pasta in boiling salted water and drain.
Heat butter in a medium non-stick saucepan. Add flour and stir for a minute or so to cook. Gradually add the milk and cream, stirring until you have a thick sauce. Add grated Parmesan and seasonings. Fold in the asparagus, pasta, corn and chosen seafood, then spread into a greased shallow baking dish. Top with the breadcrumbs and extra Parmesan. Bake for 30 mins or until golden brown. Serve with a simple green salad or steamed green vegetable such as Broccolini, Green Beans or Broccoli.
Serves 4
Variations: use 2 cups milk and omit the cream; use diced chicken or ham instead of the seafood. Use grated cheddar instead of Parmesan.