Lunch with our dear friends Lorna and Jim is always a pleasure.  At our recent catch up Lorna served this delicious salad with confit salmon, followed by strawberries and ice cream.
The original recipe said to leave the skin on the sweet potato, but I decided to peel mine as it was rather blemished. If you're missing one or two ingredients don't worry, I've listed some substitutions which would work.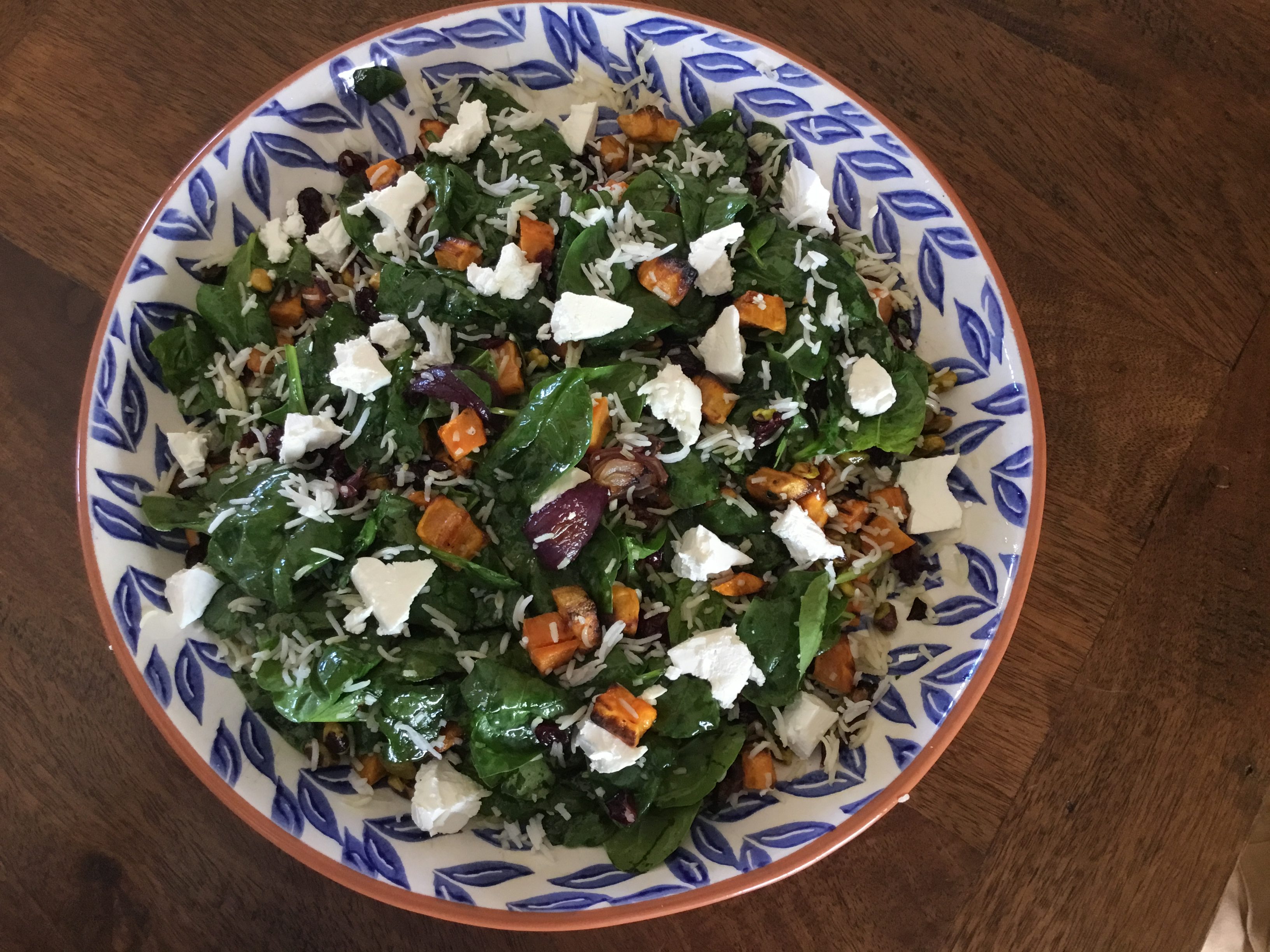 1 medium sweet potato (about 500g)
2 red onions, peeled and cut lengthwise into 6ths or 8ths
2 tsp olive oil
1 cup brown basmati rice
1½ cups water
100g baby spinach leaves
½ cup dried cranberries
½ cup pistachios
100g feta cheese, crumbled
Dressing:
¼ cup olive oil
1-2 Tbs red wine vinegar
2 tsp honey
½ tsp ground cinnamon
Salt and freshly ground black pepper to taste
Preheat oven to 180°C. Scrub sweet potato or peel if preferred, then cut into 1.5cm cubes. Mix with the onions and 2 tsp olive oil then spread out on a baking tray lined with baking paper and bake for 25-30 mins. Remove from the oven and cool.
Meanwhile place rice in a saucepan with the water and a pinch of salt. Bring to the boil then cover and turn down the heat as low as it will go and cook until water has been absorbed. Turn off heat and leave to continue steaming. Cool.
Place dressing in a jar with a lid and shake.
Place all the ingredients in a large salad bowl. Add the dressing and toss.
Serves 6
Substitutions:
Pumpkin instead of sweet potato
White onions instead of red
White rice instead of brown
Rocket instead of spinach or half and half
Sour cherries or raisins instead of cranberries
Pine nuts (toasted) instead of pistachios
Goat's cheese instead of feta
Cider vinegar or lemon juice nstead of red wine vinegar