Asparagus season is here again and I'm always on the lookout for new ways to use this delicious vegetable.
Making an asparagus bed is a long term project. The bed can't be used for anything else and for the first two years experts advise you resist picking and let the asparagus die down. The plants need to concentrate on establishing deep roots. But if you have the space an asparagus patch is a very worthwhile investment in time. Once up and running it will continue to produce asparagus every year for up to 20 years. Harvesting where we live in eastern Australia starts some time in October and runs for a month or two. Cut the spears just below the level of the soil with a sharp knife when they're about six inches or 15cm long.
There is nothing quite like home-grown asparagus, but if you don't grow your own, take advantage of local asparagus available in Australian supermarkets now. The rest of the year it's mostly imported from South America.
We like our asparagus served hot with melted butter or cold with vinaigrette or mayonnaise. It's also delicious roasted in the oven with olive oil, salt and pepper or sprinkled with Parmesan cheese and grilled.
This week's recipe teams it with chicken and Parmesan. If you have a big enough tray put the chicken and asparagus all on one and serve from the tray, to save washing up. I had to use two.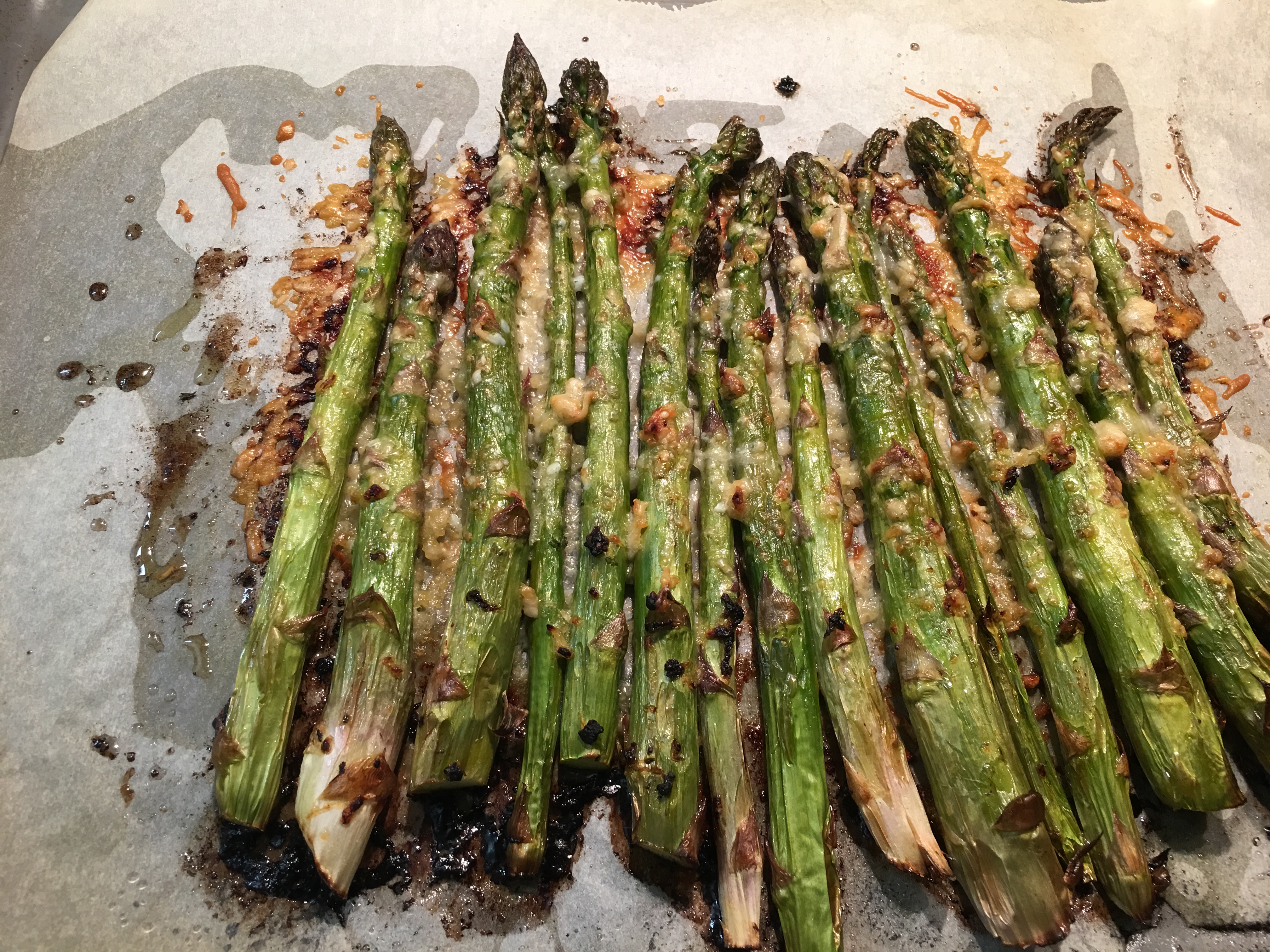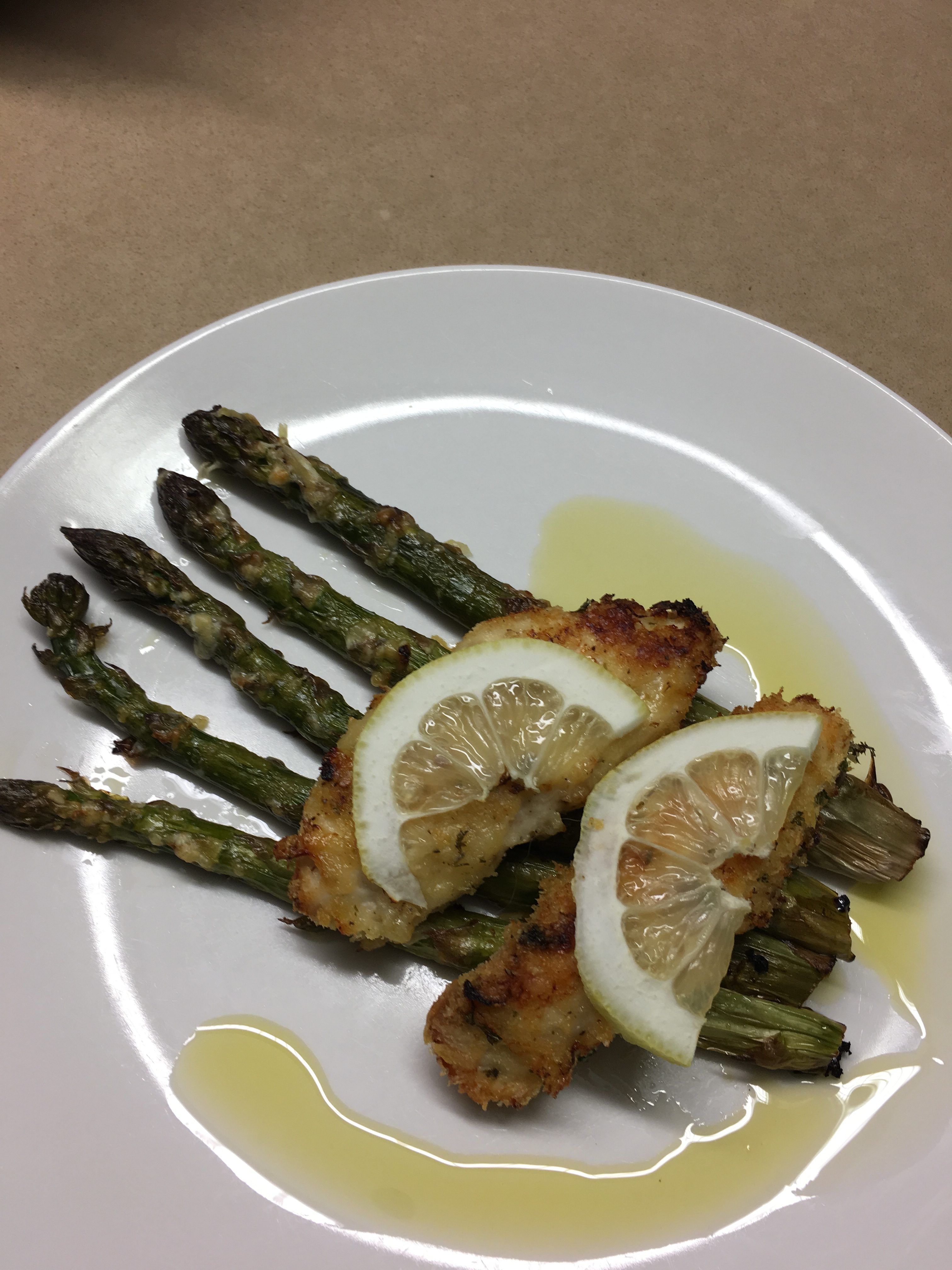 For the chicken:
2 large chicken breasts (3 if smaller)
2 Tbs flour
½ cup panko breadcrumbs
¼ cup grated Parmesan cheese
1 Tbs finely chopped parsley
Salt and freshly ground black pepper to taste
1 tsp grated lemon rind
2 Tbs melted butter
2 Tbs lemon juice
1 clove garlic, crushed
1 lemon, thinly sliced
For the asparagus:
About 500g asparagus spears, washed and trimmed
1 Tbs melted butter
1 Tbs olive oil
1 clove garlic, crushed
¼ cup grated Parmesan cheese
Preheat oven 180°C. Line a large shallow baking sheet with baking paper. Place flour in a bowl. In a second bowl mix the panko crumbs, Parmesan, parsley, salt and pepper. In a third bowl mix the lemon rind, butter, lemon juice and garlic. Cut the chicken breasts into thick strips. Coat with flour, then the garlic/lemon mixture and lastly the panko crumbs. Place on prepared baking sheet and sprinkle with any leftover panko mixture over.
Bake for 10 minutes then remove from the oven and cover with lemon slices. If there's enough room, place the asparagus on the same tray. If not line a second tray with baking paper. Mix the butter, oil and garlic and brush all over the asparagus, then drizzle the rest over. Sprinkle with the grated Parmesan. Return to the oven for 10-15 minutes or until chicken is golden brown and asparagus is cooked. If liked serve with a drizzle of olive oil. Steamed new potatoes go well.
Serves 3-4