Rhubarb grows like a weed at our farm so I'm always looking for new ways to cook it and I give away what we can't eat.
This recipe can be adapted to use other fruit and is perfect to serve with a cuppa or as a dessert. I used wholemeal flour in the pastry, because I had some which needed using. Anything that hangs around in our pantry for too long is an attractive target for pantry moths. They especially love flour, nuts and, as I discovered recently, dried chillies!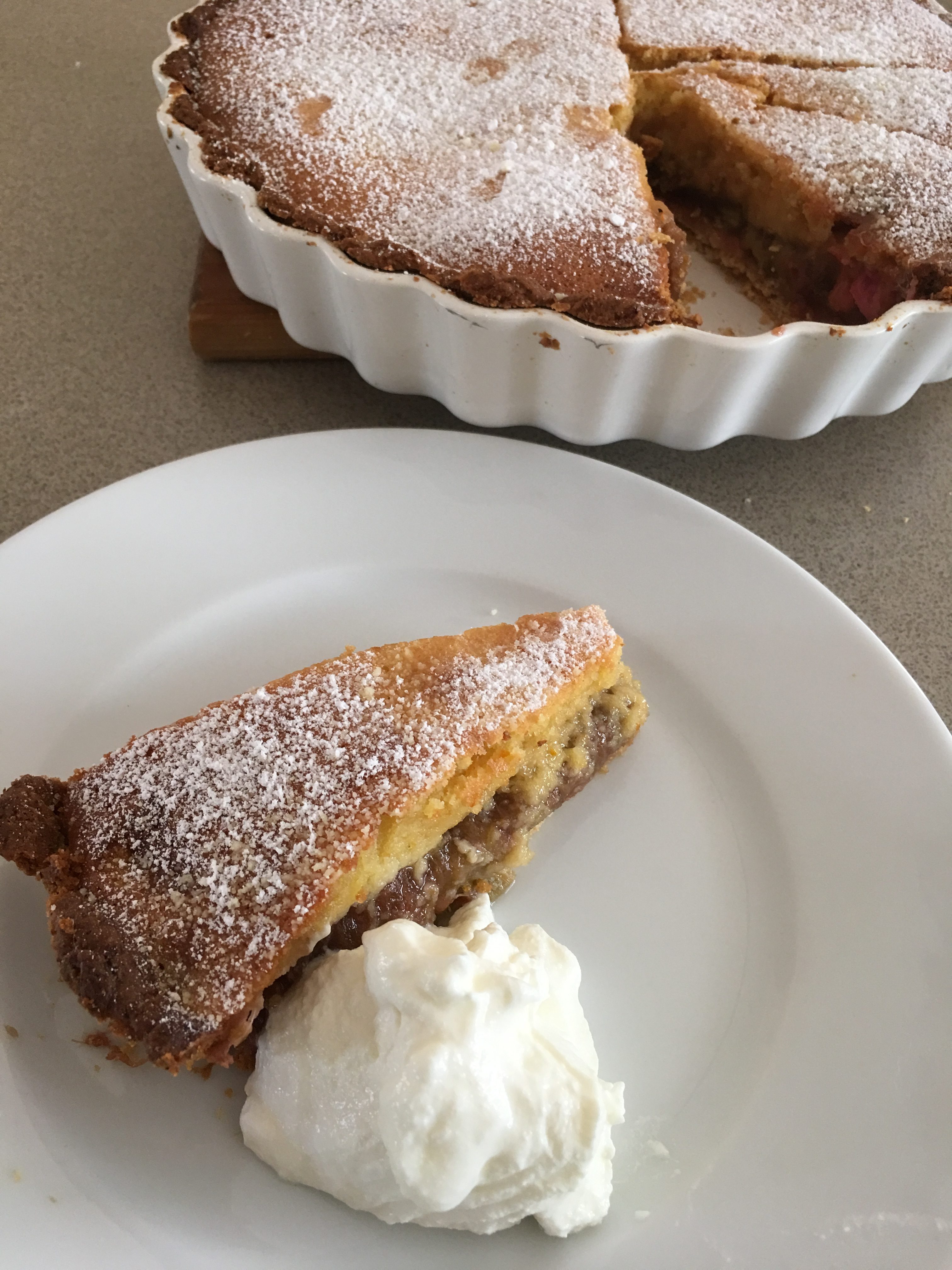 1 shortcrust pastry case
800g rhubarb, washed and cut into 3cm lengths
¾ cup raw sugar, or to taste
125g butter, at room temperature
125g (½ cup) caster sugar
1 tsp vanilla essence or 1 tsp almond essence
Finely grated rind 1 orange
1 cup almond meal
3 eggs
To serve:
Icing sugar
Vanilla ice cream, whipped cream or Greek yoghurt
Go to the link for the pastry. Bake the pastry case as instructed, with foil and something heavy like dried beans or corn, to stop it rising. Remove foil and beans and bake for a further 15 minutes, or until golden brown. Leave the oven on 180°C.
Meanwhile, cook rhubarb in a saucepan with the raw sugar for 10 minutes, or until tender but mostly still whole. Stir often so it doesn't stick or burn. Cool then spread into the pastry case.
If you used a food processor to make the pastry there's no need to wash it out before you make the filling. Place butter, sugar, vanilla, orange rind, eggs and almond meal in food processor and process until smooth, stopping halfway to scrape down the sides. Spread evenly over the rhubarb. Bake for 40 mins or until well-risen, golden brown and firm to the touch.
Dust with icing sugar and serve warm or cold with ice cream, whipped cream or Greek yoghurt.
Serves 8
Variations: use ground walnuts or pine nuts instead of the almond meal. Use cooked apples or pears, tinned pears or peaches, or a punnet of berries mixed with a cup of jam instead of the cooked rhubarb. You could also use frozen berries.