My friend Dawn can't eat gluten or dairy products, so the Gluten and Dairy-Free Grilled Chicken Salad at EQ Cafe and Lounge in Deakin caught her eye when we had lunch there recently. I decided to join her. It was delicious, not to mention healthy, so I was inspired to have a go at making it at home.
Goji berries are native to Asia and have recently become available in dried form in mainstream Australian supermarkets. The cheapest I could find were from Aldi, which sells 150g of Organic Chinese goji berries for $5. There is currently no clinical evidence that these berries are going to lower your cholesterol or cure you of anything, but they do add a nice splash of red to this salad. Substitute diced red capsicum or halved cherry tomatoes if you don't have goji berries.
Quantities are approximate. I bought a 120g pack of rocket from Aldi and used about two thirds in the salad and one third in the pesto.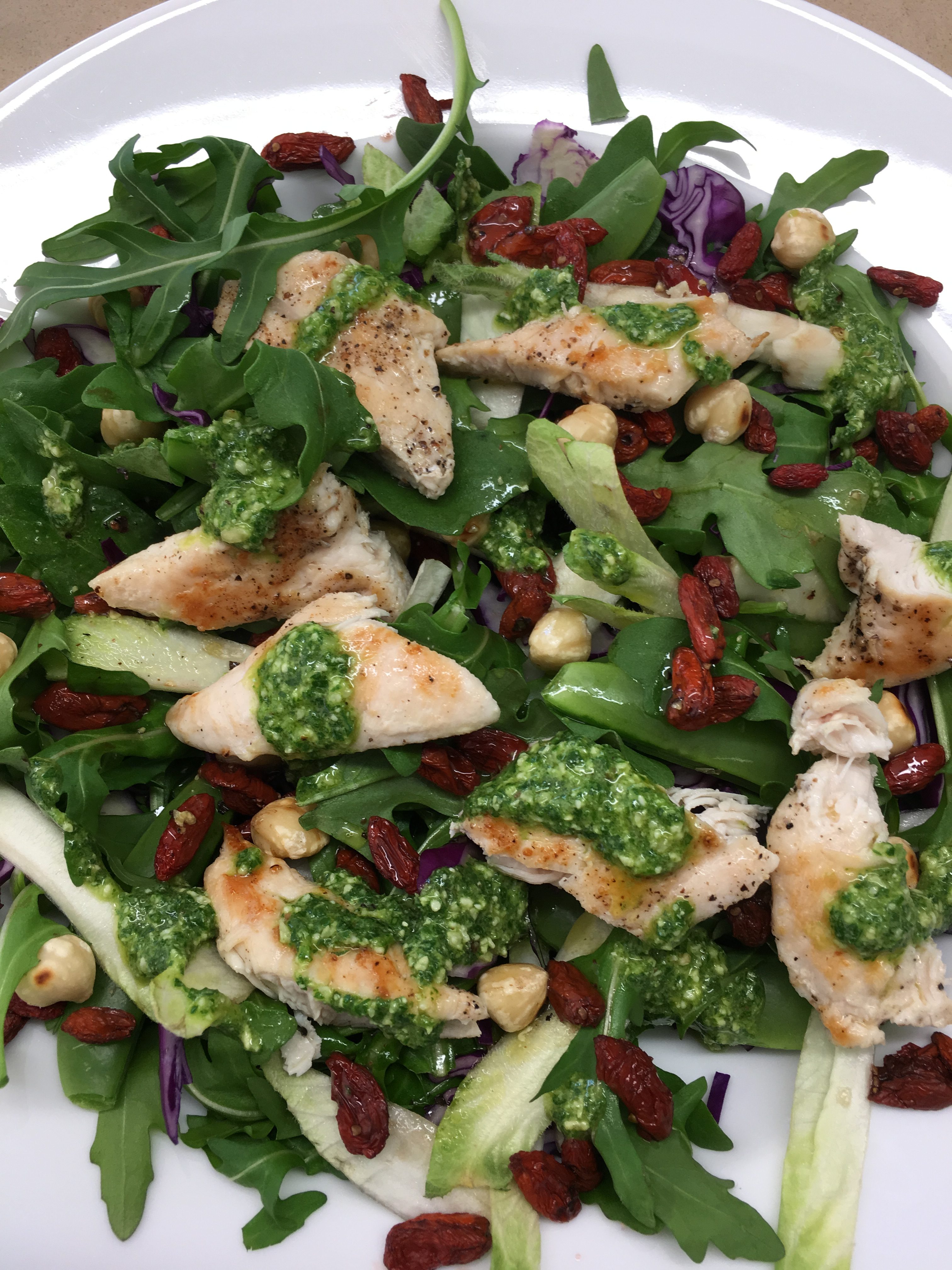 About 80g rocket, washed and spun dry
1 cup finely shredded red/purple cabbage
1 endive (witlof) cut into 1cm wide lengthwise strips
16 sugar snap peas
¼ cup dried goji berries
¼ cup red wine (or if preferred use water)
¼ cup hazelnuts, lightly toasted
200-250g chicken tenderloins trimmed and dried on paper towels
Salt and freshly ground black pepper
1 Tbs olive oil
Salt and freshly ground black pepper
Rocket pesto:
1 small clove garlic
About 40g rocket, washed and spun dry
2 Tbs pine nuts
2 tsp lemon juice
100 ml olive oil (approx)
Salt and freshly ground black pepper, to taste
Lemon Vinaigrette:
2 Tbs olive oil
2-3 tsp lemon juice
1 tsp honey (optional)
Salt and freshly ground black pepper, to taste
Place vinaigrette ingredients in a jar with a lid and shake.
Place red wine in a small saucepan and heat to boiling point. Add goji berries, turn off the heat and leave to cool, then drain thoroughly.
Make pesto by placing all ingredients except oil in food processor. Process for 30 seconds, then gradually add the oil with the motor running, until you have a thick pouring consistency.
Mix the rocket and red cabbage with the lemon vinaigrette. In two shallow salad bowls arrange the salad in layers. First the rocket and red cabbage, then the endive, sugar snap peas, goji berries and hazelnuts. Brush chicken with oil, season, then grill or pan fry until golden brown on both sides and cooked through. Slice each fillet into 2-3 pieces, arrange on top of the salad. Drizzle the salad (especially the chicken) with the pesto – you won't need it all.
Serves 2 as a main course