This torn apple pancake is an Austrian speciality. The name translates as "Emperor's mess"  after the Emperor Franz Josef, who apparently liked it so much he ate his wife's serving too.
I first tried this on a skiing holiday in Kitzbuhel in Austria, many moons ago. I couldn't remember the name, so it's taken me until now to find a recipe. My first attempt was out of balance, with too much pancake and not enough apple for my taste, so I've adjusted the proportions. After a bit more research I found some recipes include raisins soaked in rum and so I've added them to the recipe as an optional extra.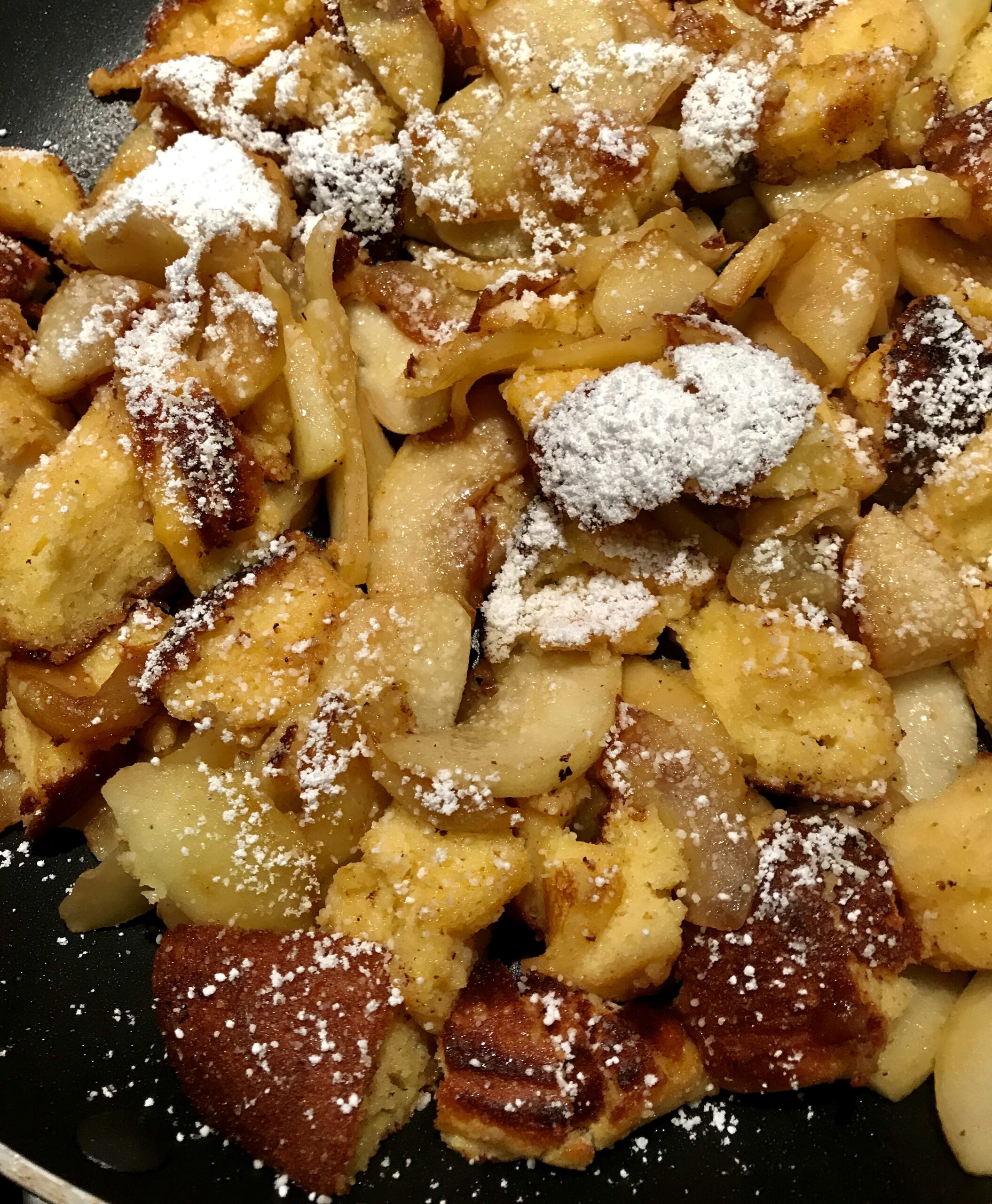 75g butter
4 apples, peeled, cored and thinly sliced
3 large eggs, separated into two large bowls
2 Tbs sugar (to taste)
1 cup plain flour
Pinch salt
1 cup milk
1 tsp vanilla essence
4 Tbs raisins soaked for an hour in 3 Tbs Rum (optional)
Icing sugar to serve
Heat 25g butter in a medium to large non-stick frying pan (25-30cm) and cook the apples, stirring, until softening and starting to colour. Add the soaked raisins, if using, then tip out into a bowl and wipe out the pan. With electric beaters, whip egg whites until soft peaks form, then add the sugar and continue to whip until you have a thick, glossy meringue.
Using the electric beaters, gradually add the sifted flour, salt, milk and vanilla to the bowl containing the egg yolks. The beaters need to be clean for the egg whites, but  there's no need to wash them before you do the egg yolk mixture. Using a spatula, gradually fold the meringue into the egg yolk mixture.
Heat 25g butter in the frying pan. Tip in the pancake mixture and cook for 3 minutes, or until the base is golden, then turn over and cook the other side. It's not easy to turn a large pancake, so an easy solution is to cut it into four while it's in the pan and turn each quarter separately. Don't worry if it breaks a bit.
When golden on both sides, tip pancake onto a plate and using two forks tear it into bite-size pieces. Wipe out the pan and put it back on the heat with the remaining 25g butter. Add the pancake pieces. Cook, stirring, until golden, then add the apples and raisins and cook for another 2 minutes, stirring. Divide between 4 serving plates and dust with sifted icing sugar.
Serves 4