This traditional Italian soup is perfect for lunch or a light dinner in the cooler months of the year. Make a big pot at the weekend and serve it for lunch or dinner a couple of times through the week, or take some to work to reheat in the microwave.
There are as many recipes for minestrone as there are for bolognese sauce, so to a certain extent you can just use what you have on hand. Onion, garlic, carrot, tomato and celery are the basic essentials, while the other vegetables are mostly optional. If you have it in the fridge add it, but don't make a special trip to the shops just to buy one zucchini or one potato.
In the minestrone I made for the photo I didn't add any potato, zucchini, leek or spinach/cabbage. I did add frozen peas and the kernels from a cob of fresh corn which needed using up. The spiral pasta is bigger than the size I usually use in minestrone, but it's what I had in the pantry. Vegetarians can just leave out the bacon.
Served topped with grated Parmesan and some crusty bread or toast, it's guaranteed to warm the cockles of your heart, as my Irish grandmother used to say. In other words, it will give you a warm fuzzy feeling.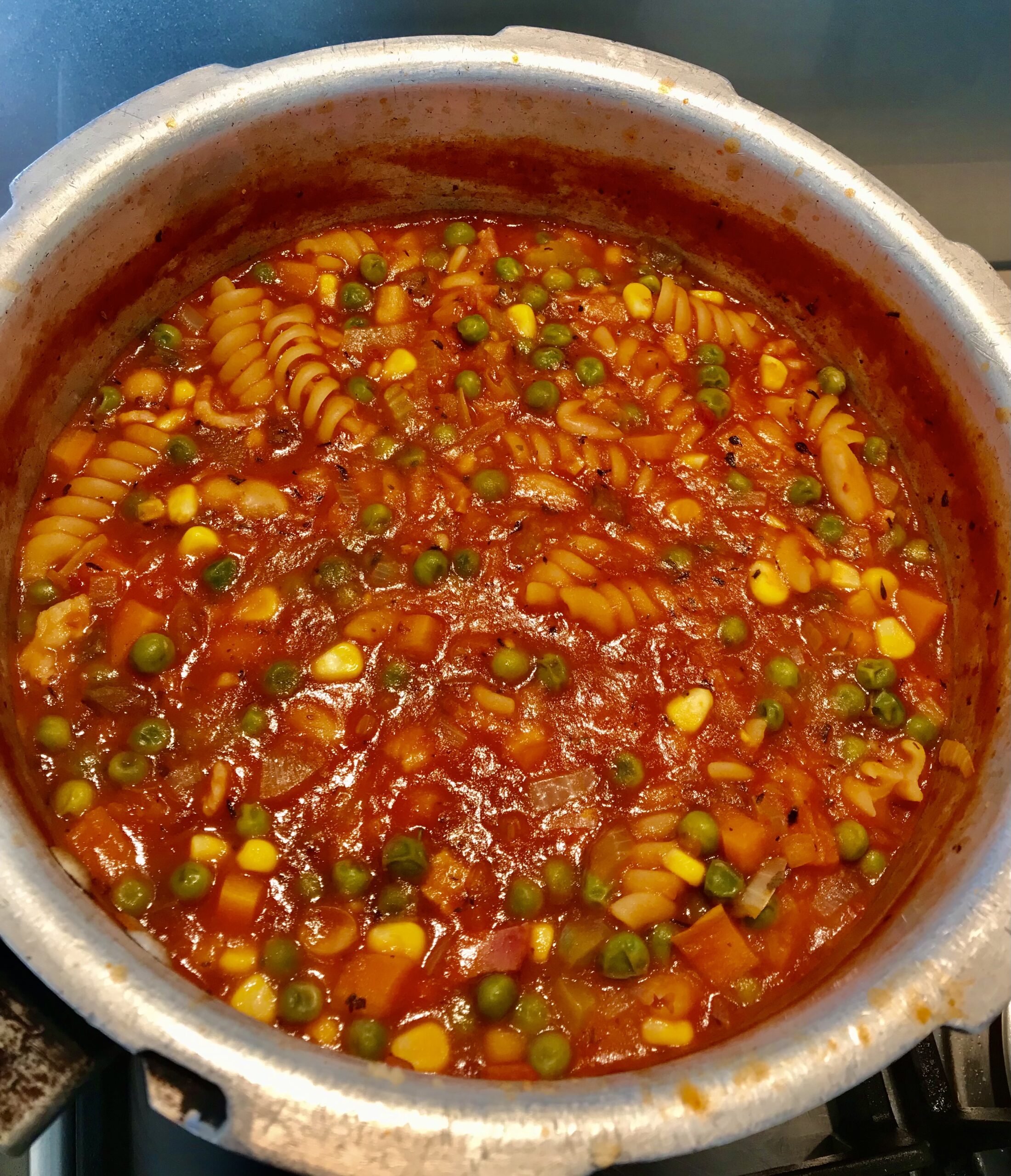 2 Tbs olive oil
1-2 onions, peeled and diced
1 leek, trimmed and diced (optional)
3-4 carrots, peeled and diced
2-3 celery stalks, diced
2 cloves garlic, crushed
2-3 rashers bacon, diced (optional)
Kernels from 1 cob corn, or one zucchini, diced
2 cups frozen peas
2 cups shredded spinach or cabbage
1 large potato, peeled and diced (optional)
2 tsp dried oregano
2 tsp dried thyme
1 can cannellini beans, drained (or another bean)
2 x 400g cans tomatoes, whizzed in food processor
1 Tbs tomato paste
2 Tbs sherry (optional)
2 litres chicken or vegetable stock (or water + 2 stock cubes)
Salt and freshly ground black pepper, to taste
2-3 tsp sugar
200-250g small pasta
To serve:
Grated Parmesan cheese
Chopped fresh parsley
Heat olive oil in a large heavy-based saucepan, then add bacon and the diced vegetables, but not the frozen peas and spinach/cabbage. Cook, stirring often, for 10 minutes or until vegetables are al dente.
Add the rest of the ingredients, bring to the boil, then simmer until the pasta is cooked. Add more water as required and check for seasoning.
Serve the soup topped with grated Parmesan cheese and chopped parsley, with fresh bread or toast.
Keeps in the fridge for 4-5 days and improves in flavour. Add water as necessary on reheating, if the soup appears to be too thick.
About 8 servings