Some neighbours have sold their house and are moving, so we invited them round for a farewell BBQ dinner. With drinks I served Tuna and Avocado Spoons, drizzled with a Wasabi dressing. Invented by my daughter Catherine, these delicious mouthfuls make the most of sashimi grade tuna and are made in a jiffy.
For the main course we barbecued some Chicken and Chorizo kebabs and served them with Crispy Potatoes with Bacon and Rosemary (Delicious magazine February 2012) and Shaved Fennel and Zucchini Salad topped with crumbled feta – another winner from Catherine. For dessert a crustless Lemon Tart with cream. The weather has suddenly turned wintry so we had to eat inside. A week ago we were able to sit outside until eleven when some other friends joined us for dinner. It's been a very strange summer weather-wise.
Tuna and Avocado Spoons with Wasabi Dressing
200-250g piece of sashimi-grade tuna
1 or 2 avocados, halved and thinly sliced
Fresh Coriander leaves
Lightly toasted sesame seeds to garnish – black ones look good
Dressing:
1 Tbs lemon juice
1 Tbs soy sauce
1½ Tbs sesame oil
2 tsp finely grated fresh ginger
1 Tbs brown sugar
¼ tsp wasabi paste, or to taste
Slice tuna thinly. This is easier to do if the tuna has been frozen and is only partially thawed. Arrange a piece on Chinese spoons, top each with a slice of avocado and a coriander leaf. Drizzle with dressing, sprinkle with sesame seeds and serve when the tuna has thawed – it will only take a few minutes.
Dressing: Place all ingredients in a jar with a lid and shake vigorously.
Makes 16-20 spoons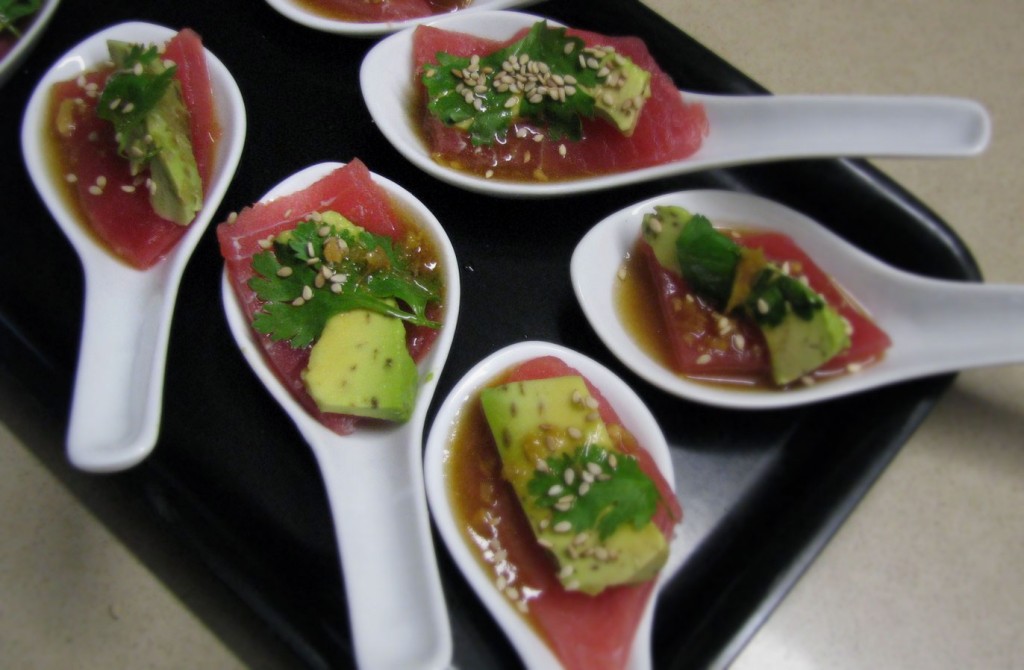 Chicken and Chorizo Kebabs
1kg boned and skinned chicken thighs
About 1.5kg raw chorizo sausages
Marinade:
1 Tbs olive oil
2 cloves garlic, crushed
2 tsp oregano
2 tsp smoked paprika (or ordinary paprika is fine)
1 Tbs lemon juice
2 tsp brown sugar
Soak about 16 wooden skewers in cold water for 20 mins or so. Place marinade ingredients in a large bowl and stir to combine. Trim chicken to remove any fat or gristle and cut into 2.5cm cubes and add to marinade. Stir to combine – chicken will pretty much absorb it. Cut the sausages into 1cm slices. Thread chicken and chorizo onto skewers, alternating them. Leave aside in a dish to continue marinating. Can be made ahead and kept covered in the fridge for several hours or overnight.
Cook on a medium-hot barbecue for 8-10 minutes each side or until cooked through.
Makes about 16 kebabs
Shaved Fennel and Zucchini Salad with Dill and Feta
1 or 2 zucchini depending on size, sliced very thinly
1-2 bulbs of fennel, depending on size, sliced very thinly
2/3 cup fresh dill, roughly chopped
½ cup toasted pine nuts
100g feta cheese
4-5 handfuls rocket leaves
Dressing:
¼ cup lemon juice
1/3 cup olive oil
salt to taste
1 tsp honey
The quickest way to cut the zucchini (courgettes) and fennel is through the slicing blade of a Magimix or using a mandoline. Place in a bowl with dill and rocket. Place dressing ingredients in a jar with a lid and shake vigorously. Mix dressing with salad then pile into a shallow flattish serving dish. Sprinkle the pine nuts and crumbled feta over the top.
Crispy Potatoes with Bacon and Rosemary
1 kg potatoes cut into 3cm cubes (I used kipfler from the garden)
2-3 sprigs rosemary, leaves picked off
1/4 cup + 1 Tbs olive oil
3 rashers bacon, finely chopped
2 onions, finely chopped
2 cloves garlic, finely chopped
2 Tbs chopped parsley
If liked peel the potatoes or just scrub them well and cut into cubes. Line a roasting pan with baking paper and set the oven to 180°C. Mix potatoes with 1/4 cup olive oil, rosemary leaves, salt and pepper to taste. Tip into the roasting pan and roast for about 40 minutes, or until golden, stirring once or twice during cooking time.. Meanwhile heat 1 Tbs olive oil in a frying pan and cook bacon for 2 minutes, stirring, then add onion and garlic and continue to cook for 8-10 minutes until soft. Add onion and bacon to the potatoes, mix through then continue to bake for a further 10 mins. Mix in the parsely and serve.
Crustless Lemon Tart
120g butter at room temperature
1 1/2 cups caster sugar
4 eggs, separated
250ml cream
1/2 cup lemon juice
finely grated rind of 2 lemons
120g self-raising, sifted
Preheat oven to 170°C. Lightly butter a ceramic quiche or similar round dish and line the bottom with baking paper. With electric beaters, beat the egg whites until they hold soft peaks. In another bowl with the same beaters, beat butter and sugar until light and fluffy, then beat in the egg yolks, cream and lemon juice and rind. Fold in the sifted flour and lastly the egg whites, in two batches. Tip into the dish and bake for about 25-35 minutes or until set to the touch and golden. Turn off the oven, open the door and leave the tart to cool in the oven.
When cool, refrigerate until serving time. Dust with icing sugar and serve with thick cream.
Serves 8-10
Note: the reason for whipping the egg whites first even though you add them last is simply to save having to wash the beaters. Egg whites must be whipped with clean beaters.,