You don't see monkfish much in the shops and when you do it's usually quite expensive, but I recently bought some at Costco. It's a firm, "meaty" fish with a texture similar to scallops. I think the best way to serve it is steamed with Chinese flavourings.
350-400g monkfish fillets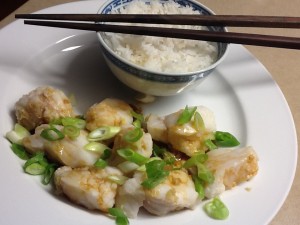 2-3 tsp grated or finely chopped ginger
2 cloves garlic, finely chopped
Salt and freshly ground black pepper, to taste
2 tsp sesame oil
1 Tbs soy sauce
2 spring onions, finely sliced on the diagonal
To serve:
Steamed rice
Cut fish into big chunks. Mix with the ginger and garlic and season to taste. Place on a dinner plate in one layer. Half fill a large saucepan with water and bring to the boil. Place the plate with the fish on top and cover with the saucepan lid. Steam for 7-8 minutes or until opaque and cooked through but not quite flaking. Timing will depend on how close the plate is to the boiling water – be careful not to overcook.
Meanwhile heat sesame oil and soy sauce in a saucepan or in the microwave. Arrange fish on 2 serving plates. Drizzle with the soy sauce mixture and sprinkle with the spring onions. Serve with steamed rice.
Serves 2
Variation: use another firm fish such as barramundi