We recently spent a week in Sicily where we hired a car and drove from Palermo to Patti, Taormina, Syracuse and back to Palermo. We spent a couple of days in each of these cities, soaking up the history and visiting some amazing churches and ancient monuments in the area. I won't go into details of where to stay and what to do – there's plenty of information on Trip Advisor and we found most of our accommodation on Airbnb.
Lots of windy roads and a few crazy drivers made the driving something of a challenge. The weather was considerably hotter than we had expected for mid-September, so we avoided sight-seeing in the middle of the day. Nonetheless we had a great time and would definitely recommend a trip to this part of Italy.
On the whole, the food in Sicily is good, especially if you're a fan of pizzas and pasta. Finding good places to eat other dishes was more of a challenge. Everything we ordered which involved eggplants (aubergines) was delicious – stuffed eggplant, capponata (an Italian version of ratatouille with eggplant as the main ingredient) and eggplant fritters to name a few.
Our favourite city was Syracuse, especially the old city located on the island of Ortigia. Our favourite restaurant in Syracuse was Notre Dame where we ate outside enjoying the balmy evening weather. This bistro is run by an enthusiastic young couple and serves an interesting menu including this delectable Millefoglie di Melanzane – a layered Eggplant Terrine. It was so good we went back twice and on the second occasion the chef gave me the recipe.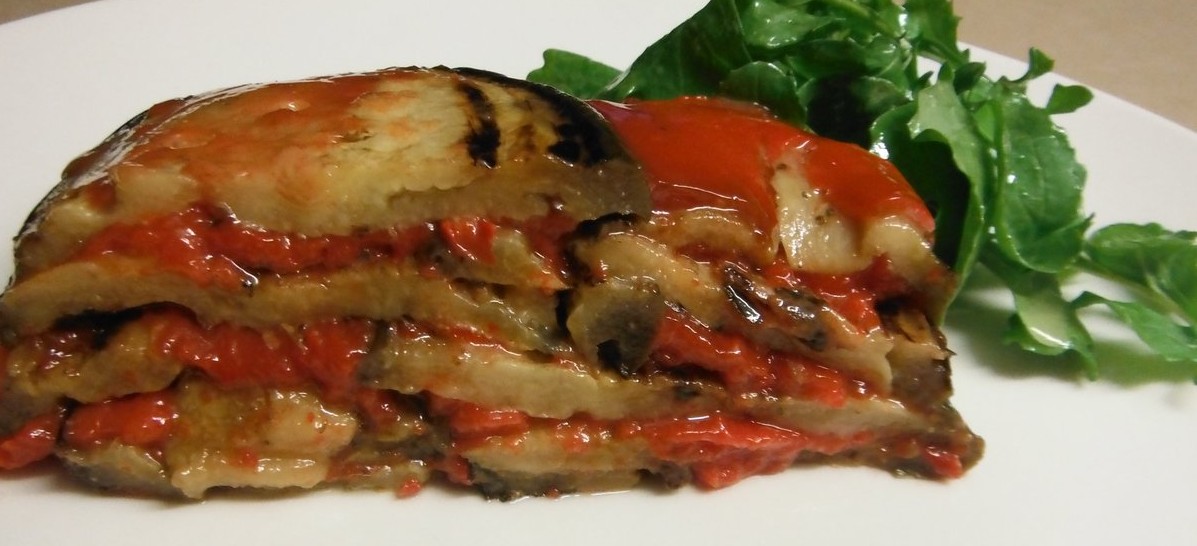 Canola or a mild-flavoured olive oil
2 large eggplants or 3 smaller ones
400g red capsicum (peppers)
2 eggs
2 sheets gelatine, soaked in water or 3 tsp powdered gelatine
Salt and pepper to taste
Cut capsicum into quarters and remove stalks and seeds. Cook in boiling, salted water for 15-20 mins or until soft. While still hot place them in a food processor with the eggs, gelatine, salt and pepper and process until smooth.
Meanwhile slice eggplants thinly lengthwise, discarding the first cut which is just skin. Heat some oil in a large frying pan and fry the eggplant slices, about 3 at a time, until golden brown and cooked on both sides. Add more oil as required. Drain on paper towels.
Choose a silicone loaf pan which doesn't need to be lined, or line a metal one with non-stick baking paper. Starting and ending with a layer of eggplant slices, layer the eggplant and red capsicum puree in the loaf pan. Cover and refrigerate overnight.
Using a serrated knife, cut terrine into 4-6 thick slices and serve with some lightly dressed rocket leaves.
Serves 4-6