Rhubarb grows like a weed in our garden, so I'm constantly looking for new ways to cook it and giving away what we can't eat.
This recipe by Annabel Crabb is so good you simply have to try it. I've adjusted the method slightly and cut down a bit on the sugar in the rhubarb. The cake would go well with other poached fruit, such as quinces, pears or figs and instead of almonds you could use walnuts or other nuts.
If you don't like the acidity of sour cream or crème fraîche, serve with whipped cream or vanilla ice cream, but I think sour cream provides a perfect contrast to the sweetness of the cake.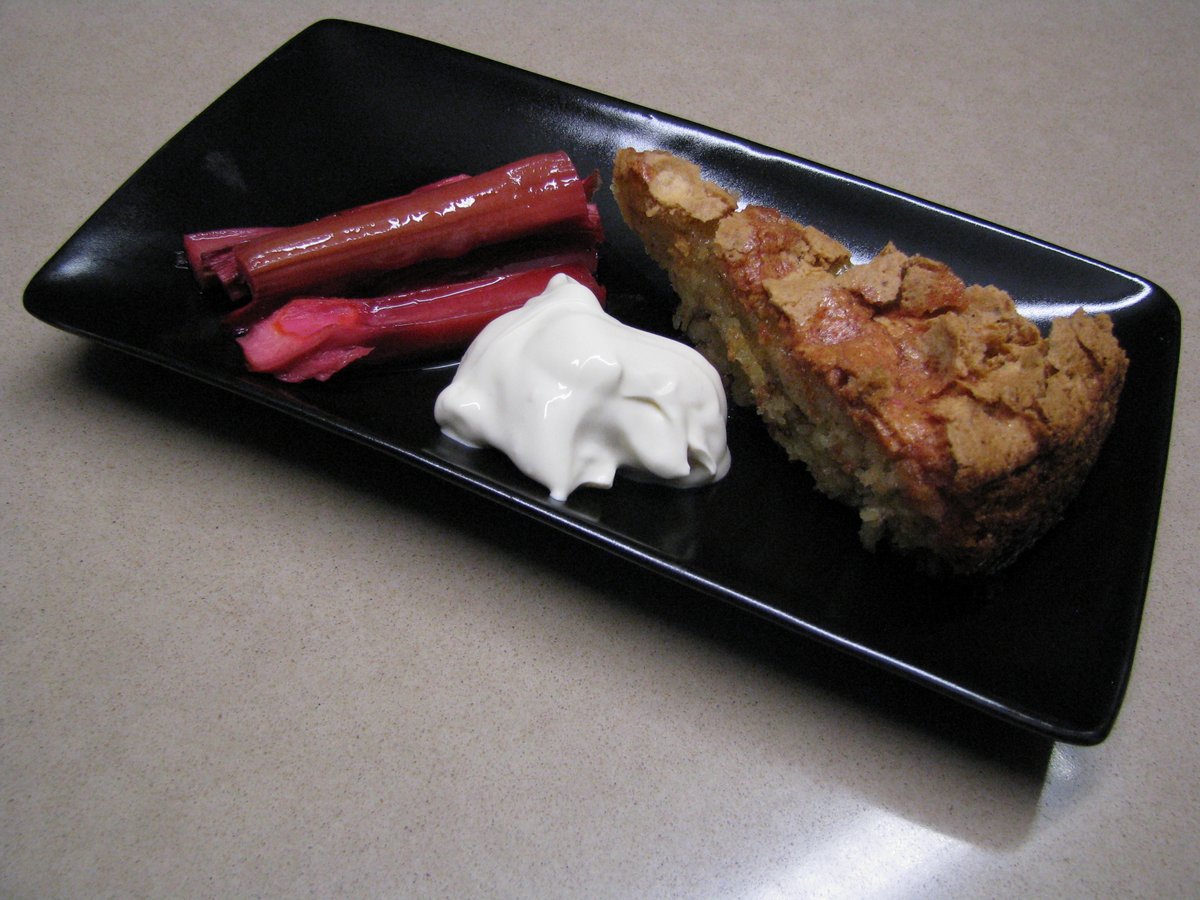 Cake:
100g almond meal (or make from whole or slivered blanched almonds)
1 heaped cup stale coarse breadcrumbs (preferably sourdough but any kind will do)
75g whole un-blanched almonds
1 cup caster sugar
4 eggs
¾ cup vegetable oil
½ tsp baking powder
Rhubarb:
400g rhubarb (as red/pink as possible)
½ cup water
3-4 Tbs sugar
To serve:
Sour cream or crème fraîche
Preheat oven to 170°C and grease a 20cm cake tin. If tin is metal line with baking paper, but if it's silicone just spray with oil.
If you don't have almond meal make your own: place blanched almonds in food processor and process till fairly fine, then tip into a bowl. Blitz bread in the processor until you have coarse crumbs then tip onto a baking tray. Add whole un-blanched almonds to the processor and chop coarsely, leaving some bits the size of a pea. Add to the breadcrumbs on the baking tray and spread out evenly. Place in the oven for about 5 mins or until golden then remove and cool. Watch carefully as they burn easily.
Place eggs and caster sugar in a large mixing bowl and whip with electric beaters until thick. Continue to whip while gradually adding the oil. With a spatula, fold in the almond meal, toasted breadcrumbs/almonds and baking powder, sifted. Tip into cake tin and bake for 45 mins or until golden, risen and firm to touch. Remove from the oven and when cool remove from tin. If cake has puffed up leaving a big air pocket underneath (mine did) just flatten it down gently with your hand.
Wash and trim rhubarb and cut into 4cm lengths. Place in a bowl with the water, mix to wet them all, then tip into a baking dish with the water and spread out in a single layer. Sprinkle evenly with sugar then bake for 10-15 mins or until tender but still holding its shape.
An hour or so before serving, drain rhubarb and keep the syrup. Pierce cake all over with a skewer and drizzle with the syrup. Serve each slice of cake with a pile of poached rhubarb and some crème fraîche or sour cream.
Serves 10
Useful Tip: don't throw stale bread away. Make breadcrumbs in the food processor and store them in the freezer to make this cake or to use in a stuffing for roast chicken.