This is a good way to use up leftover cooked rice and leftover roast beef. If you don't have either, cook some rice and slice about 300 grams of raw beef steak into thin strips. Stir fry the beef in the oil for a couple of minutes, then remove from pan, add the vegetables to the pan and proceed according to the recipe.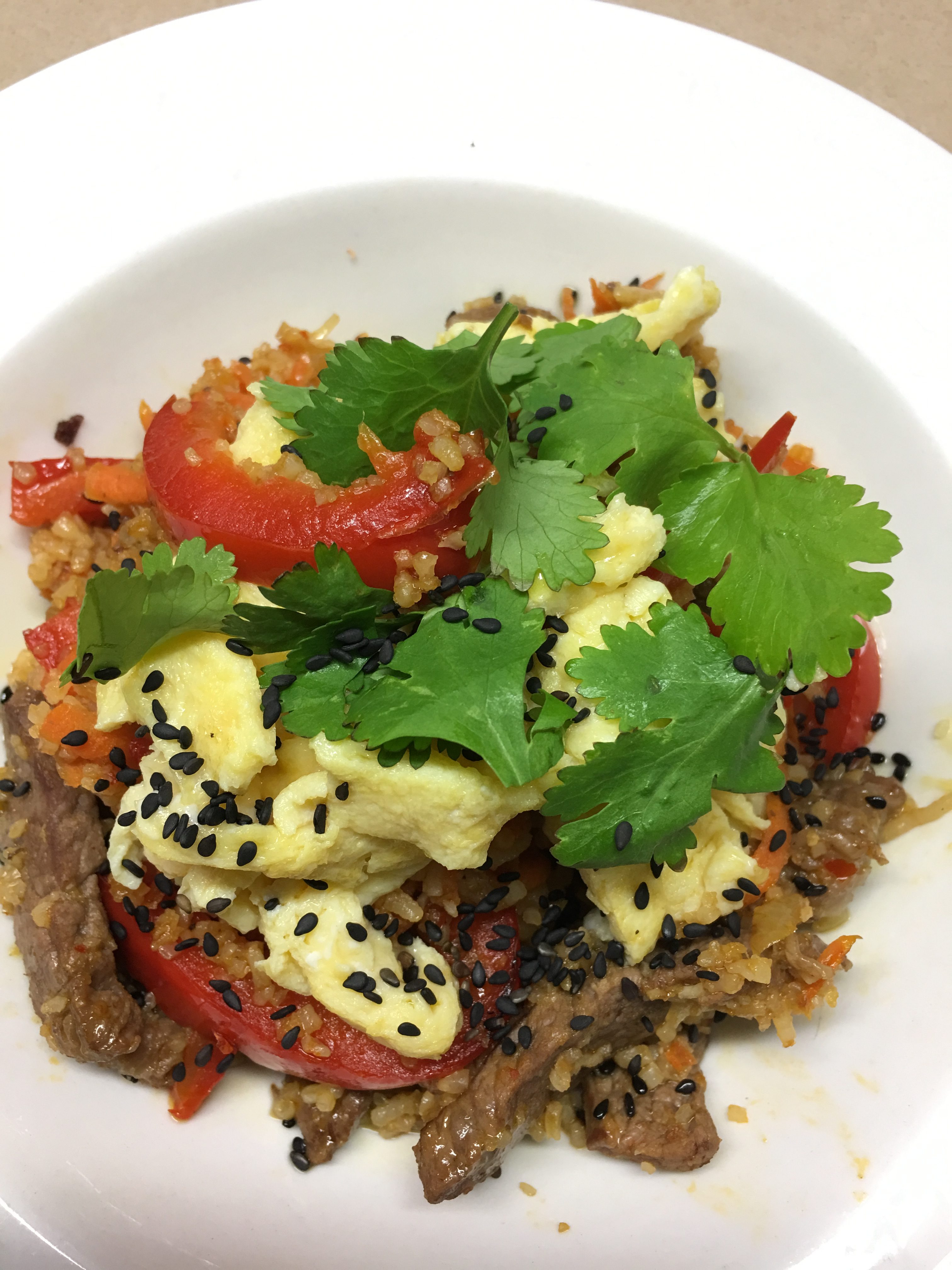 2 eggs
1 Tbs water
Salt and pepper to taste
2 Tbs oil
1 onion, chopped
1 clove garlic, crushed
1 carrot (coarsely grated)
1 red capsicum (pepper) cut into thin strips
2 cups leftover roast beef, cut into thin strips
1 Tbs Korean chilli paste (or substitute Harissa or Sambal Oelek)
3-4 cups cooked long grain rice
2 tsp soy sauce
2 tsp sesame oil
To garnish:
Chopped fresh coriander
2 tsp black sesame seed
Beat eggs withIn water and seasoning then make a thin omelette in a small omelette pan, using half the oil. Remove from pan onto a plate and cool, then cut into thin strips.
In a wok or large frying pan heat remaining oil and cook the onion, garlic, carrot and capsicum, stirring constantly, for 2-3 minutes or until softened. Add the beef, chilli paste, rice, soy sauce and sesame oil. Stir fry for a couple of minutes. Taste and adjust seasoning by adding salt and pepper or a bit more soy sauce. If it's not spicy enough, add a little more chilli paste.
Serve in bowls, topped with the omelette, the coriander and the black sesame seeds.
Serves 3-4