Hill House is a dairy farm located on the heather-clad moors of County Durham, in the very north of England. I learnt to make this sponge cake when staying there in my early teens. Unlike a Victoria Sandwich, an egg sponge doesn't contain any butter.
My Dad's cousin, whom we called Auntie Vina (pronounced Vyna), taught me to make many of the cakes I still make today. My first sponge cake turned out so well I made another one and entered it into the Butterknowle annual agricultural show's cooking section and won First Prize. You couldn't wipe the smile off my face. The sponge in the photo got a bit overcooked on the sides, as you can see in the photo, but it still tasted good. I always think of my dear old Dad when I make this cake as it was one of his favourites.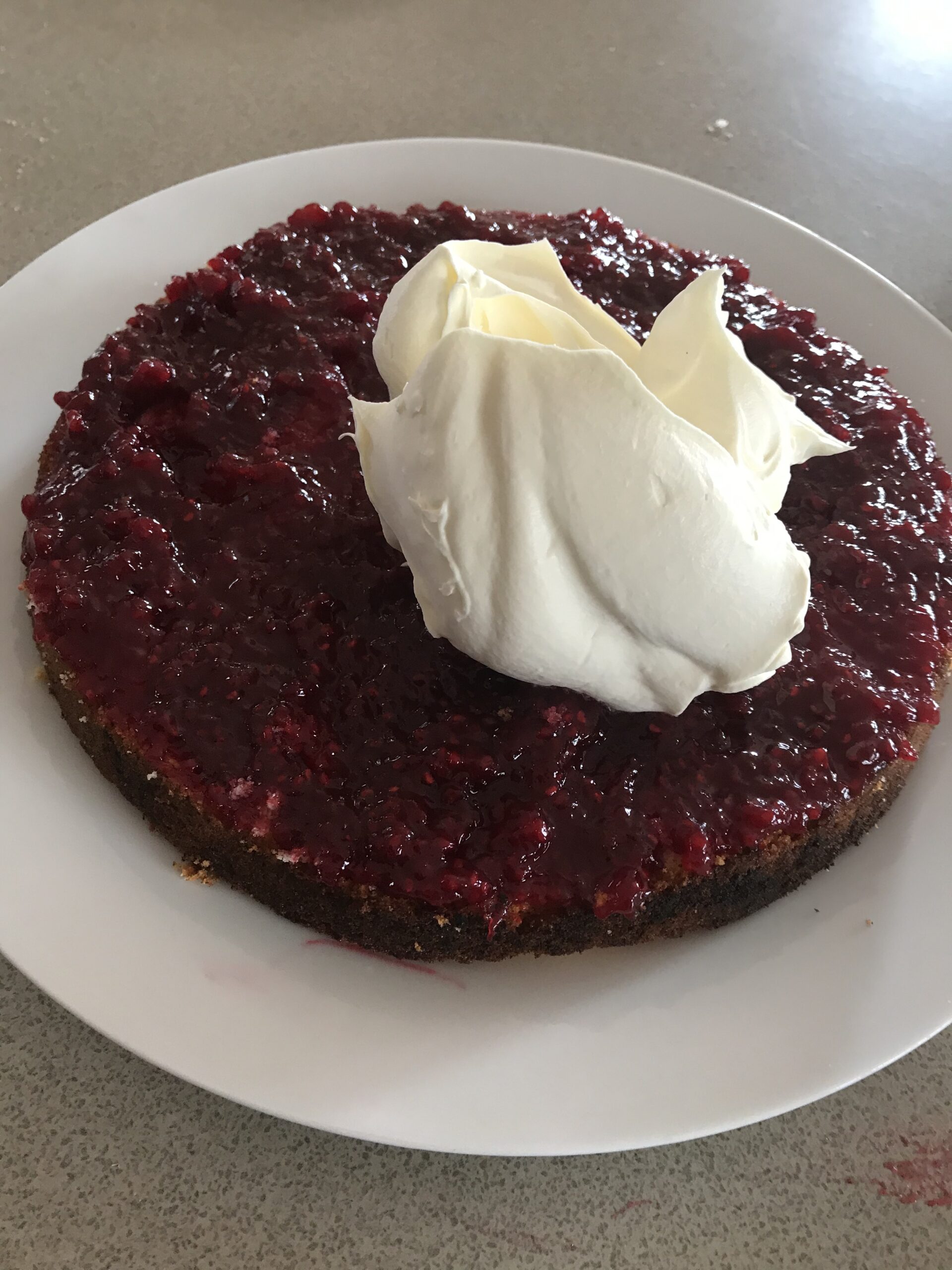 3 large eggs
2 tbs warm water
¾ cup sugar
1 cup plain flour
Filling:
¾ cup raspberry or strawberry jam (preferably homemade)
1 cup cream, whipped
Icing sugar
Preheat oven to 180°C. In a large bowl, whisk eggs, sugar and water until very thick and tripled in volume. Add flour through a sieve and fold in carefully with a metal spoon. Scrape into a 20cm cake tin, greased and bottom lined with baking paper. Bake for 20 minutes or until well risen, golden brown and firm to touch in the middle. Don't overcook. Cool in the tin for a few minutes, then run a knife around the outside and invert carefully onto a cake rack.
When cold, remove paper from the bottom, then turn over. Cut sponge in half horizontally, then cut the top layer into 8 slices – this makes it easier to cut the cake after it has been filled. Fill with jam and whipped cream. Place the 8 slices back onto the uncut bottom layer and sieve some icing sugar over the top.
Chocolate Sponge: use ½ cup self-raisig flour, ¼ cup cornflour and ¼ cup cocoa. Omit the jam and fill with whipped cream.
Note: if you make the cake in a tin with a larger diameter you need to increase the ingredients, otherwise it comes out thin and unimpressive. So for example with a 22cm tin use 4 eggs, 3 Tbs water, 1 cup of sugar and 1¼ cups of flour.