You can't buy green mangoes in the two local supermarkets I frequent. When I go to a Middle Eastern shop a bit further afield which sells them I always buy a few when they are in season. Green mangoes are a particular variety, smaller and thinner than the sweet ones. If you can't find green mangoes, buy some very underripe ordinary ones. You don't want soft mushy flesh, it needs to have a bite to it.
This salad is perfect without the salmon as part of a buffet. If you don't like things too hot, leave out the chilli or use less.
Tamari is gluten-free, so it's a good option for celiacs.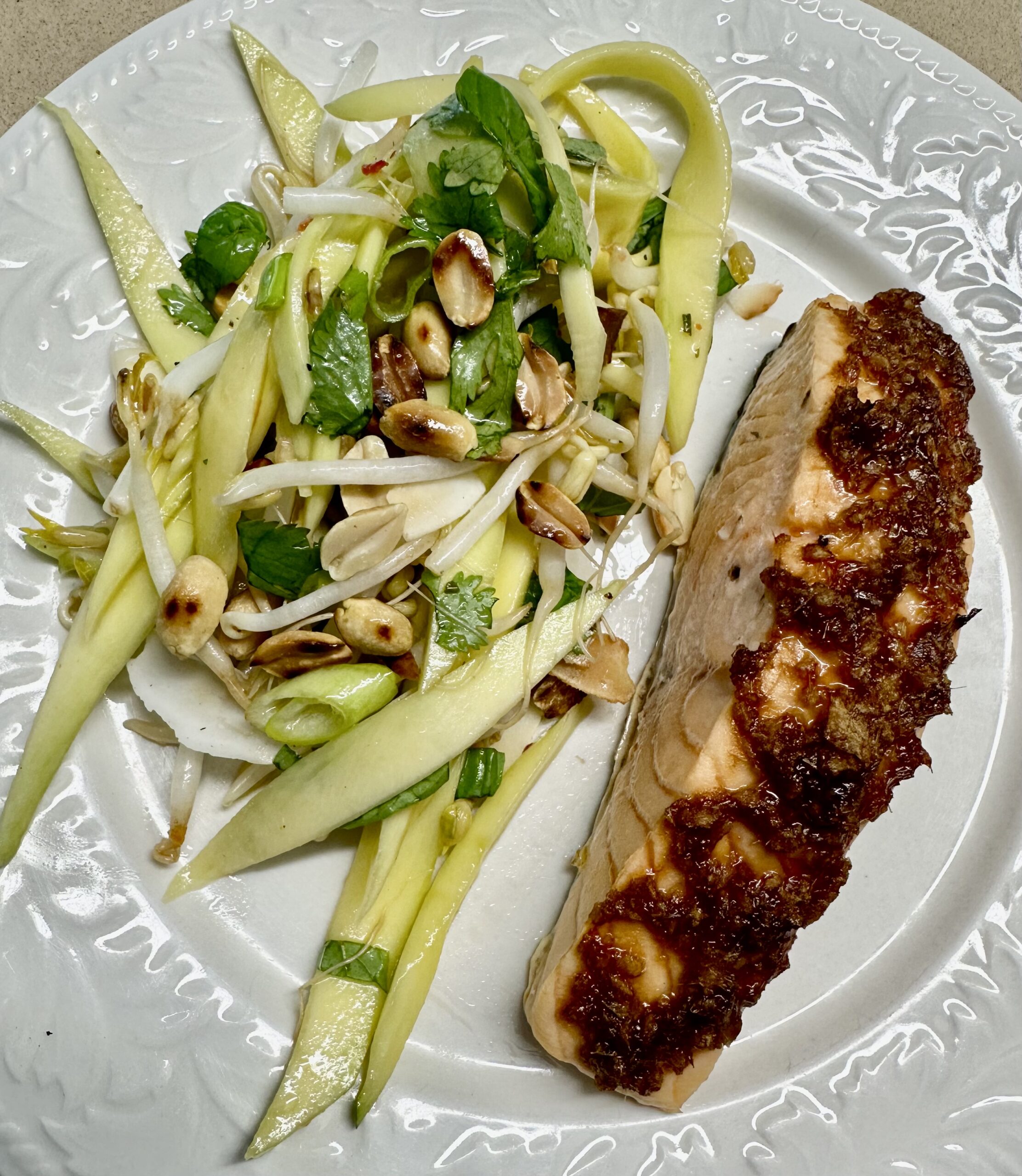 Dressing:
3 Tbs fish sauce
¼ cup lime or lemon juice
1 or 2 Tbs brown sugar, honey or maple syrup, to taste
2 tsp Thai sweet chilli sauce
Salad:
¼ cup dry unsweetened coconut flakes
2-3 firm green mangoes
2-3 cups beansprouts
½ cup coarsely chopped coriander
1/3 cup coarsely chopped basil
3-4 spring onions, thinly sliced on the diagonal
1 small red chilli, thinly sliced (optional)
¼ cup peanuts or coarsely chopped cashews
Salmon:
4 salmon pieces
2 Tbs finely chopped or grated fresh ginger
2 Tbs tamari or sweet chilli sauce
Place all ingredients for dressing in a jar with a lid and shake vigorously.
Place coconut in a dry frying pan and stir fry for 2-3 minutes or until light golden. Cool. In the same pan stir fry the nuts until starting to colour ,then cool.
Peel the mangoes, cut the flesh into thin slices, then cut these into long thin julienne strips. I used a vegetable peeler to make the strips you can see in the photo. Place in a large bowl with the beansprouts, fresh herbs (saving a few of each to garnish), spring onions and half the coconut. Add enough dressing to moisten, then tip onto a serving plate. Garnish with the reserved herbs and coconut and sprinkle with the nuts.
Meanwhile, arrange salmon pieces on a shallow baking tray lined with baking paper. Preheat oven to 200°C. Mix ginger with tamari or sweet chilli sauce and spread over the top of each piece of salmon. Bake for 8-10 minutes or until cooked to your liking. I like it pink in the middle, but if you like it well done cook for 15 minutes.
Serve the salmon with the salad on the side.
Serves 4