I often make mixed roast vegetables, but sometimes it's nice to combine just two. Carrots and beetroots go together well and look very colourful.
Serve with roast meats or as a warm salad for lunch, by arranging them on some lightly dressed salad leaves, then sprinkling with crumbled feta or goat's cheese and a few toasted walnuts or pecans.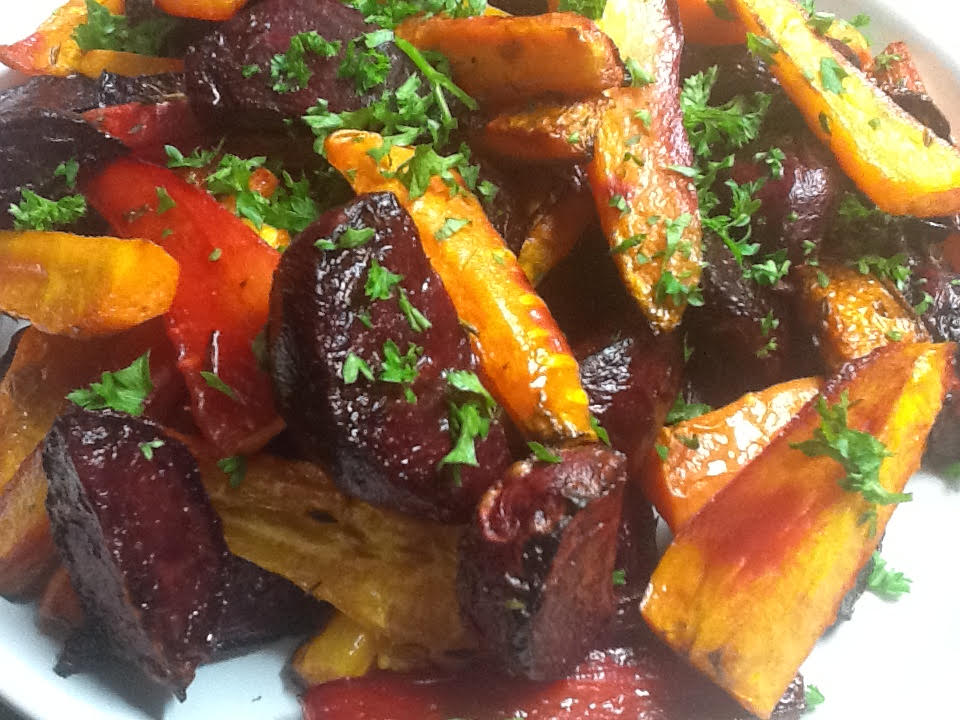 500-800g carrots, peeled and cut into chunky sticks
500-800g beetroots, peeled and cut into wedges
3 Tbs olive oil
3 Tbs white balsamic vinegar
Salt and pepper to taste
1 Tbs finely chopped fresh thyme or rosemary
Chopped fresh parsley (or another herb) to garnish
Preheat oven to 200°C. Place vegetables in a bowl and add remaining ingredients except the parsley. Mix well. Line a large shallow baking sheet with baking paper and spread the vegetables out in one layer. Bake for 30-40 mins or until tender and starting to brown on the edges. About halfway through cooking time swap the vegetables on the outside of the tray with ones nearer the centre, in order to achieve more even cooking.
Tip into serving dish and garnish with fresh herbs.
Serves 6-8